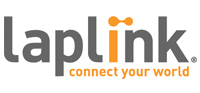 Quite simply, PCmover reduces the total cost of deploying a new PC by over $300 on average.
BELLEVUE, Wash. (PRWEB) June 06, 2019
Today, Laplink Software announced the release of their newest version of PCmover Business. PCmover, the top-selling PC migration software, is the only software of its kind recommended by Microsoft, Intel, and all major PC manufacturers.
PCmover Business provides small to medium sized organizations advanced migration options to greatly reduce the time to deploy PCs, and dramatically lowers the cost of a PC refresh project. It becomes particularly valuable when considering Microsoft's Windows 7 End of Support on January 14, 2020. As Laplink CEO Thomas Koll stresses, "…it is even more imperative we make PCmover available to organizations needing to quickly and efficiently move off Windows 7."
PCmover Business automatically transfers everything desired from an old PC to a new PC, even applications, while allowing full selectivity. Run PCmover directly from the command line, portable storage devices (such as USB drives), or from a network location. "Quite simply, we reduce the total cost of deploying a new PC by over $300 on average," shared Koll. "We save hours of IT labor and reduce end-user frustration. That means lower cost and greater productivity. And for service providers, it means better margins and happier clients."
This latest version of PCmover includes many improvements that resulted from Laplink's partnership with Intel. They include auto-connecting between PCs, improved application processing, and a streamlined user interface. Also, users will see increased network transfer speeds, improved reliability, and even faster transfer speeds using Laplink USB 3.0 or Thunderbolt cables.
"Labor costs, especially for IT personnel, keep increasing, but PCmover actually reduces those costs," continued Koll. "That's why so many Fortune 100 companies have chosen PCmover – same as the global system integrators who serve those companies, and same for the top consulting firms in the world. It's why thousands of smaller organizations, from manufacturing to healthcare to education to government all are using PCmover – to lower the total cost of PC refresh."
Visit the PCmover Business homepage to request the free evaluation, learn more, and view options to purchase, including significant discounts on volume licenses.