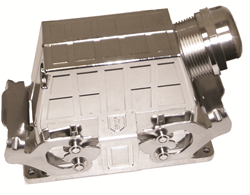 Florham Park, NJ (PRWEB) August 11, 2016
Lapp USA has announced that select models of its EPIC ® rectangular connectors are now certified to UL 50e standards, ensuring performance in harsh, non-hazardous operating environments.
The UL 50e standard applies to electrical equipment exposed to harsh conditions, including water, dust and salt exposures.
Ideal for power, control and data applications, Lapp's EPIC series of rectangular connectors secures electrical connections in harsh environments and reduces installation time and maintenance downtime.
Selected models of EPIC HB, HA, and ULTRA HB housings have been tested and certified by UL to the NEMA 4,4X and 12 standards.
The use of UL 50e certified EPIC® rectangular housings within control cabinets, ensures the integrity of the cabinet's NEMA 4, 4X or 12 rating.
Ends
About Lapp Group Company
Lapp Group's complete connectivity solutions for industrial machine and infrastructure applications include a full suite of power and control cable, connectors, accessories and systems. These products and solutions are specifically tailored for a wide array of industries including automotive, food and beverage, wind energy, oil and gas, packaging and manufacturing.
Lapp brands include; ÖLFLEX®, UNITRONIC®, EPIC®, SKINTOP®, ETHERLINE®, HITRONIC®, SILVYN®, and FLEXIMARK®.