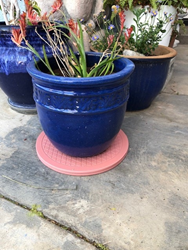 "There's nothing else like this on the market,"
RANCHO CUCAMONGA, Calif. (PRWEB) April 16, 2019
Every experienced gardener knows the importance of regular rotation for both indoor and outdoor potted plants yet it's one of the most commonly overlooked aspects of gardening. When receiving sun exposure on only one side, plants will become lopsided, partly leaf-bare or leggy and reaching, even potentially harboring pests. To keep them balanced, symmetrical and healthy, potted plants should be given an average of a quarter-turn regularly, as part of a routine every time one waters. The new "Terra Cotta Garden Swivel" from California-based LapWorks® Inc. makes the task quick and easy for potted plants weighing up to 150 lbs., and is the first outdoor garden swivel ever on the market. No more back strains from bending over or scratches on floor surfaces!
The LapWorks Terra Cotta Garden Swivel is built of nearly indestructible ABS polymer in a Tuscan Rose Terra Cotta color. The round 12" diameter support plate rotates on a base using 18 stainless steel rust-proof ball bearings to allow potted plants, or any other heavy object, weighing up to 150 lbs (68 kg) to rotate in place smoothly, effortlessly and securely, a full 360-degrees. Non-skid, non-scratch rubber pads provide a firm grip to any surface whether wood flooring, concrete or tile. The supporting surface is textured to ensure a solid base of support for any potted plant or statuary.
Built to withstand all kinds of weather and aging, the Terra Cotta Garden Swivel is backed by a lifetime warranty. Theses ABS polymers won't deform or crack over time from the Sun's constant Ultra Violate exposure. The suggested retail price is just $19.95.
"There's nothing else like this on the market," said José Calero, founder and president of LapWorks. "There are no other terra cotta colored, or any other color, heavy duty swivel designed for outdoor plant and statuary use. We're sure consumers will love the design and how smooth it operates. And we're so confident of its high quality construction that we guarantee the product for life."
While gardening authorities vary somewhat on the topic of rotation – recommending anything from a quarter turn every three days to one every two weeks to one 180-turn every two months, depending on existing light conditions and species – the necessity of rotating plants is well established. Uneven plant growth is more than just an aesthetic issue, it can negatively impact the plant's health by giving a home for insects, reducing necessary foliage and creating general stress by hindering the light which the plant needs for photosynthesis. As a simple rule of thumb, gardening experts recommend getting into the habit of one quarter turn each time the homeowner waters to keep them growing evenly and healthily.
TERRA COTTA GARDEN SWIVEL DETAILS

Lifetime Warranty!
12" Terra Cotta Garden Swivel can support a weight load of 150 Lbs.
Constructed of nearly indestructible ABS plastic
Stainless steel ball bearings will never rust for ease of rotation and long life
Useful indoors, outdoors, shops, retail or office environment
Non-skid, non-scratch rubber pads for best gripping
Lightweight and easy to reposition
For more information on the Terra Cotta Garden Swivel or to purchase directly, visit LapWorks® at http://www.laptopdesk.net or go directly to Amazon and type in "LapWorks Terra Cotta Swivel".
ABOUT LAPWORKS, INC.
Founded in 2000, LapWorks, Inc., is committed to providing customers with high-quality ergonomic accessories that make a person's life easier. The company produces an impressive lineup of portable lap desks, desk stands, hand holders, mounts, pedestal stands, swivels and carts which are engineered to be secure, convenient and useful. LapWorks Inc., 7955 Layton Street, Rancho Cucamonga, CA 91730; (909) 948-1828 / (877) 237-3936; http://www.lapworksinc.com
# # #