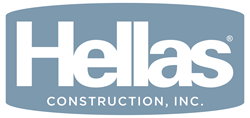 Stan Laing, NISD Executive Director of Athletics said "It has just been a great working relationship with Hellas."
SAN ANTONIO (PRWEB) March 05, 2021
Northside Independent School District (NISD) is continuing its athletic facilities renovations in 2021. Harlan, Taft, and Warren High Schools will install Matrix Helix® Turf, Cushdrain® shock pad with Realfill™ Infill and epIQ V300 tracks while Health Career High School will have the track completely rebuilt. In 2019 & 2020, Hellas Construction did the same type of installations at Brennan, Holmes, Marshall and Stevens High Schools.
Stan Laing, NISD Executive Director of Athletics said "It's always a good sign that you work with someone early on and then years later you come back and you are working with the same company. It has just been a great working relationship with Hellas."
A slight difference at the installations in this phase is they will also include Eco Nailer™ boards. Eco Nailer is an ecologically friendly nailer board used in the turf installation process to secure the synthetic turf in place. Eco Nailer is 100% recycled plastic made from turf waste. Eco Nailer will not rot, mildew, decay, or warp, even under extreme freeze-thaw cycles and in wet climates. Eco Nailer has a 25-year warranty and will last two to three turf cycles.
Brian Parks, Business Development Manager said "Northside ISD trusts that Hellas will do a good job and we believe we have provided them an excellent product and superior service. We hope to continue this relationship long into the future."
Northside Independent School District has worked with Hellas since 2005 when Hellas Construction resurfaced Gustafson Stadium. To date Hellas has worked with NISD on approximately 30 projects since the company's inception. NISD is the largest school district in the San Antonio area and the fourth largest in the State of Texas. Additionally, in 2020 Hellas installed Major Play® Fusion turf baseball and softball fields at Don Hardin Athletic Complex and post tension tennis courts at Sul Ross Middle School.
Hellas Construction, headquartered in Austin, TX, is the nation's largest sports contractor and was recently included in the famed Inc. 5000 list of America's Fastest Growing Companies. In 2019, Hellas Construction opened an office at 2312 South Loop 1604 West, San Antonio, TX 78264 to provide the dedicated attention needed for the abundance of San Antonio area projects.
Hellas Construction, Inc. headquartered in Austin, TX, is the largest vertically-integrated sports construction contractor in the United States, specializing in the general construction of sports facilities and sports surfaces. Hellas champions innovative artificial turf manufacturing, base construction, field, track and tennis planning, along with installation and maintenance. hellasconstruction.com
Northside Independent School District, San Antonio, TX, established in 1949 by the consolidation of 12 rural school districts, Northside today is 355 square miles of urban landscape, suburban communities, and rural Texas hill country. As South Texas' largest school system, Northside is the "Destination District" for thousands of families wanting a high-quality school system.