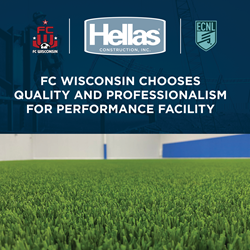 MEQUON, Wis. (PRWEB) March 19, 2021
FC Wisconsin is a member of the Elite Clubs National League (ECNL), a league representing the epitome of excellence in youth soccer, for boys and girls, with over 50,000 athletes in their organization and core values including innovation, respect and excellence. As a club in this prestigious league, and sharing similar values, it is no surprise that they chose Hellas Construction to complete their indoor turf training facility. The ECNL club finished installation of the Matrix Helix® Turf field with Realfill™ infill earlier this month in their new indoor training space in Mequon, WI as part of the new Athlete Performance facility.
Christian Lavers, Director of Coaching for the girl's program at FC Wisconsin and President and CEO of the ECNL, said, "When it came to Quality, Product, Professionalism and Warranty picking Hellas was a no-brainer. Once I knew we wanted to install turf I reached out to Dean Linke and he sent me a list of contacts in the soccer world who I knew, who had worked with Hellas and all provided rave reviews."
Matrix Helix® Turf is made from the highest quality raw materials. These spiral-shaped monofilament fibers have a natural look and feel and are tufted into a triple-layer backing to secure the fibers in place. If properly maintained, Matrix Helix® Turf averages a 10-year lifespan before replacement is needed, which is 25% longer than other turf brands.
"Already the best turf surface I have seen," said Lavers.
Prior to the installation of the indoor synthetic turf FC Wisconsin was comprised of 500 boys and 225 girls ranging from 7-18 years old. Now that the facility is complete and the turf is installed, FC Wisconsin added an additional program in this space for age groups of four, five and six-year-olds.
"As you know, young kids are all over the place at that age. Having them in an indoor space where we don't have to worry about weather and other distractions, and where we can offer programs all year, will be perfect for this age group," said Lavers
Dean Linke, Regional Vice President said, "As a longtime and proud ambassador to soccer at all levels, it has been a fantastic marriage for me to see some of the top youth soccer clubs in the country use Hellas turf. The response to Hellas' service and quality has been outstanding among several top-flight soccer clubs. And, to be able to help Christian Lavers, one of the greatest minds in the youth soccer landscape, and ECNL makes this job even more special. It is one of the best indoor soccer fields I have ever seen."
Hellas Construction takes a turn-key approach to athletic facilities. Hellas owns and operates its own construction and installation equipment using its own crews. The firm also manufactures its own synthetic turf, track and court surfacing materials at three factories in the United States. These investments allow Hellas to meet the timing, budget, and quality demands of its clients without reliance upon third parties. Hellas has seen growing engagement with soccer organizations including but not limited to the North Carolina Football Club, North Carolina Fusion, Richmond Strikers and Prince William Soccer Club.
Hellas Construction, Inc. headquartered in Austin, TX, is the largest vertically-integrated sports construction contractor in the United States, specializing in the general construction of sports facilities and sports surfaces. Hellas champions innovative artificial turf manufacturing, base construction, field, track and tennis planning, along with installation and maintenance. hellasconstruction.com
FC Wisconsin is Wisconsin's only club participating in the Elite Clubs National League, the top player development and competition program in the United States with the mission to Raise the Game change the youth soccer landscape through innovative, player-centered programs that raise standards of quality and experience in all aspects of the game.