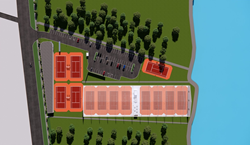 RedClay Gardens, Hackensack, NJ: America's bold and beautiful step into 21st century tennis.
HACKENSACK, N.J. (PRWEB) February 23, 2022
America's largest ever RedClay tennis complex, opening summer/fall of 2022 in Hackensack NJ, is announced this week by partners Lumen Architectural Engineering PC and RedClay USA LLC, featuring fourteen "engineered" RedClay® courts, imported from Germany.
The new "RedClay Gardens" broke ground last year with an unmatched eight indoor and six outdoor courts, all being built with the 21st century version of old Europe's traditional red clay courts. The court technology is already the official court of the WTA Porsche Grand Prix Tennis event in Stuttgart, the world's largest professional women's tournament, and is now being built at clubs and homes across the U.S.
Lumen CEO Robert Lee (facility owner/architect) states, "Our new Hackensack facility is a world-class design, with our new clay court technology well-proven in Europe, including use at pro tournaments and training centers. Our indoor courts have no equal for both fun and serious tennis. We're constructing one-of-a-kind buildings with the finest of all features and considerations."
RedClay USA CEO Brian Osterberg says, "RedClay Gardens is a historic flagship club for the U.S. as it heralds U.S. tennis onto the red clay stage, joining the rest of the world. All can now see that America is going red... joining the global admiration of red clay tennis. Everyone can visit and play - - or just enjoy watching the beauty of tennis on real red clay."
RedClay Gardens is scheduled to be ready for play by fall 2022, with the indoor structure featuring translucent roof panels adding natural lighting. Main building structures will feature state-of-the-art player amenities and lounging areas.
RedClay Garden facility renderings and construction photos can be seen at redclayusa.com.
All inquiries regarding club offerings and other questions can be addressed to info@redclayusa.com.