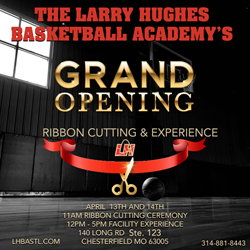 CHESTERFIELD, Mo. (PRWEB) April 10, 2019
The Larry Hughes Basketball Academy (LHBA) is excited to announce it's open for business, helping our community's youth thrive in the world's most incredible team sport, basketball. Our grand opening is taking place at our newly renovated facility located at 140 Long Road, Chesterfield, Mo. We have several Grand Opening Celebrations going on between April 13th and April 14th.
The ribbon cutting will be at 11 a.m. on April 13th. Each Grand Opening Celebration will feature prominent guest speakers, facility tours, and mini group programs, allowing athletes and their parents to experience this one-of-a-kind facility first hand.
This two-day celebration will be jam-packed with fun activities, vendor visits, and amazing giveaways! So, to keep track of all the excitement, please follow us at:
Facebook: @LarryHughesBasketballAcademy
Instagram: @LarryHughesBasketballAcademy
Website: http://www.lhbastl.com
We'll also have a live radio broadcast (The 107.7 FM) onsite on April 13th and 14th from 12pm to 2pm.
What Makes This Facility Truly Remarkable and a St. Louis Gem:
Situated right off the Long Rd. exit off Interstate 64, within 20 minutes from just about anywhere in St Louis, LHBA brings modern, technologically-advanced, NBA-style youth basketball training with curriculum created by Larry Hughes and his team of experts.
This Academy integrates advanced technology from RSPCT Basketball (http://www.rspctbasketball.com) to track every shot of each athlete and Kinexon Sports Technology (http://www.kinexon.com) to track each athlete's movement on the Court. Both RSPCT and Kinexon are used at 8 NBA Team Training Facilities (and growing). All of this data is captured and put into the athlete's proprietary digital locker, allowing them, their coaches, and their families to measure improvement and optimize performance. It truly is the first-of-its-kind Youth Basketball Training Facility.
Dr. David T. Martin, Director of Performance Research and Development for the Philadelphia 76ers, says, "We were one of the first teams in the NBA to use RSPCT and Kinexon Technology to improve the sophistication of our NBA preparation programs. It is exciting to see that this technology can now be used to refine how young players develop their basketball skills and fitness. It doesn't matter if you are in the NBA or learning the game in a youth program, state-of-the-art technology combined with passionate, knowledgeable coaches working in a competitive and safe environment represents a competitive advantage. With player and shot tracking, young players are likely to be more engaged and coaches and trainers have the opportunity to monitor progress and optimize player development plans for every participant."
It Gets Even Better:
LHBA also features the Lazer Dribbling System by Microsoft, a functional training area with turf, weights, and other training equipment, and a comfortable parents' lounge overlooking the training courts. This lounge is a wonderful place for parents to relax and enjoy themselves while their athletes are trained using the most advanced technology and most qualified trainers anywhere in the country—let alone, St Louis.
Driven by a passion to provide character development and optimize a young athlete's desire to be the best they can be, LHBA uses the principles and systems established by Basketball Training Systems (http://www.basketballtrainingsystems.com) to make every single athlete a peak performer in sports AND life! Come join us to train like a pro.
Affordable classes are offered every night and on weekends. The facility is also open during the day for adult training and corporate events.
Tours of the LHBA facility and new member enrollments will be available during the Grand Opening Celebration as well as by appointment. For membership information, call the Academy at 314-881-8443 or visit http://www.lhbastl.com.
Larry Hughes played for the Philadelphia 76ers, Golden State Warriors, Washington Wizards, Cleveland Cavaliers, Chicago Bulls, New York Knicks, Sacramento Kings, Charlotte Bobcats, and Orlando Magic. Originally drafted by Philadelphia in the 1st round of the 1998 NBA Draft from Saint Louis University, where he was named Freshman of the Year, Hughes is known for being a versatile and athletic guard with strong defensive abilities. In the 2004-05 season, he was selected to the NBA All-Defensive 1st Team as a member of the Wizards. He also led the league in steals per game with 2.89 in 2004–05.
Larry started his basketball career at Christian Brothers College High School, winning the Missouri state championship in 1997. He then played 1 season of college basketball at Saint Louis University before being drafted to the NBA.