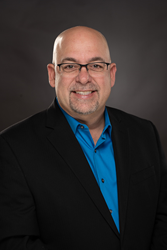 ATLANTA (PRWEB) February 19, 2020
ClickDimensions, the leader in marketing for Microsoft Dynamics, today announced that Larry Mieldezis has joined the company as Chief Technology Officer. A veteran leader and honored executive in the technology industry, Mieldezis will oversee ClickDimensions' technology strategy and execution, ensuring the company continues to develop the most innovative and effective marketing solutions for Dynamics users.
Mieldezis comes to ClickDimensions with more than 25 years of experience. Most recently, he served as VP of Cloud Services and DevOps for OpenText, which acquired Liaison Technologies in 2018, a company he co-founded. He combines a results-driven career with a deep understanding of the Microsoft ecosystem and data platforms, an ideal fit for ClickDimensions as the company continues to expand its portfolio as the only unified marketing cloud for Dynamics.
"Larry has extensive experience running global engineering teams and building an award-winning Data Platform as a Service business. He is also a skilled leader with a track record of integrating acquisitions, making him the perfect choice to spearhead our technology organization," said ClickDimensions' CEO, Mike Dickerson. "Beyond his technology and leadership qualifications, Larry brings a business acumen and perspective that will be well received by our partners and customers around the globe."
"I was drawn to ClickDimensions because of its position as the market leader in the Dynamics ecosystem, but also for its ambitious portfolio vision," Mieldezis remarked. "With data becoming ever more integral to a marketing strategy, there is an increasing need to effectively combine data management and end-to-end data platforms with marketing applications. I look forward to extending our competitive advantage with best-in-class technology development, delivery and operations teams to support this strategy, drive innovation and enhance operational capabilities for our partners and customers."
With the recent acquisition of Sweetspot, a marketing dashboard leader, and the launch of an enhanced services offering, ClickDimensions provides a full marketing cloud that helps Microsoft Dynamics customers achieve maximum value with measurable results.
About ClickDimensions
Founded in 2010, ClickDimensions is the leading marketing platform for Microsoft Dynamics, with more than 3,700 customers around the globe and a partner network that spans 76 countries today. As The Marketing Cloud for Microsoft Dynamics™, ClickDimensions is redefining how marketers work and attain results with the only unified marketing technology, analytics and services platform in the market. Made exclusively for and natively built within Dynamics, ClickDimensions allows marketers to leverage technology to its full potential by providing built-in measurable results and insights into revenue impact with world-class services to drive continual improvement. For more information, visit http://www.clickdimensions.com, follow @ClickDimensions on Twitter or email press@clickdimensions.com.