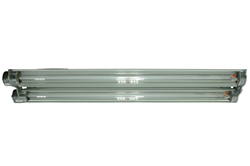 This popular explosion proof LED light has been equipped with an integrated emergency ballast, allowing the unit to only power on during emergency situations
Kemp, Texas (PRWEB) November 14, 2016
The EPL-EMG-48-2L-LED-113 explosion proof LED light fixture from Larson Electronics is ideal for operators seeking top quality lighting that will reduce operating costs, improve lighting quality and reduce downtime incurred from frequent servicing intervals.
This fixture is equipped with our specially designed LEDT-series bulbs which produce 7,000 lumens, resulting in 30% more foot candles of illumination at eight feet as compared to standard T8 lamps. These 28 watt LED lamps produce 125 lumens per watt and offer lower amp draw and increased reliability. The LED assembly is mounted within the tube constructed from extruded aluminum and a polycarbonate lens. With an integrated emergency ballast, this explosion proof LED light will operate for 90 minutes once the main power to the light is severed. Once standard electrical power is restored, the light will shut off and the emergency battery pack will be recharged.
This fixture carries a T6 temperature rating and is approved for Class 1 Division 1 Groups C and D, Class 1 Division 2 Groups A, B, C, and D environments where flammable or combustible gases, vapors, dusts, fibers, and flying exist or stand the potential to exist. This unit is universal voltage and operates on any voltage ranging from 120 volts AC to 277 volts AC. These fixtures are standard surface mounted via two swivel brackets. Each bracket is cinched to the bracket mounting peg on each side of the light. The angle of the bracket is set by tightening two cap screws on either side of the bracket. The cap screws act as a set screw. The bracket is mounted via a single bolt hole at the top of the bracket. Once the brackets are mounted to a surface, the light fixture can be removed from the bracket by loosening the cap screws that hold the bracket to the mounting peg.
"This popular explosion proof LED light has been equipped with an integrated emergency ballast, allowing the unit to only power on during emergency situations," said Rob Bresnahan, CEO of Larson Electronics. "Once the main electrical power is severed, each lamp will operate for 90 minutes."
Larson Electronics carries an extensive line of LED light towers, portable power distributions, explosion proof lights for hazardous locations, portable work lights and industrial grade LED area lights. You can view the company's entire line of lighting by visiting them on the web at Larsonelectronics.com. You can also call 1-800-369-6671 to learn more or call 1-214-616-6180 for international inquiries.