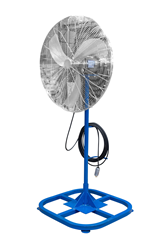 Kemp, Texas (PRWEB) October 11, 2016
The EPF-SM-30-100-EPP explosion proof fan from Larson Electronics is a Class I Division 1 and Class II Division 1 fan that is rated for use in hazardous locations where flammable or explosive vapors, gases, or dusts exist. This unit incorporates an OSHA compliant 30 inch circulation fan that delivers maximum airflow in a variety of hazardous work environments. This hazardous location fan features a spark-proof design that is intended to minimize the possibility of causing an ignition or explosion in a hazardous environment. Although no fan is completely explosion proof, this unit is constructed with non-sparking blades and a thermally protected, maintenance free ½ horsepower motor that greatly reduces such risk.
The 30" fan is mounted to a heavy duty galvanized four foot steel pedestal stand that is powder coated for corrosion resistance. The fan unit generates over 10,000 CFM of air output and spins at 1,725 RPM's for efficient spot cooling. A powder coated steel guard provides protection over the three blades. The EPF-SM-30-100-EPP is equipped with 100 feet of 16/3 chemical and abrasion resistant SOOW cord fitted with an optional explosion proof cord cap for easy connection to explosion proof outlets. By equipping the unit with a longer cord and an explosion proof plug, this gives the operator the ability to maneuver the unit throughout the work space while maintaining explosion proof protection.
"This hazardous location fan is ideal for cooling Class 1 Division 1 areas where traditional air conditioning is not present," said Rob Bresnahan, CEO of Larson Electronics. "It is available with an optional explosion proof cord cap to operate on 114 volts AC or 208-230 volts AC and rounds out this unit's hazardous location rating."
Larson Electronics carries an extensive line of LED light towers, portable power distributions, explosion proof lights for hazardous locations, portable work lights and industrial grade LED area lights. You can view Larson Electronics' entire catalog of products by visiting them on the web at Larsonelectronics.com. You can also call 1-800-369-6671 to learn more about their products or call 1-214-616-6180 for international inquiries.