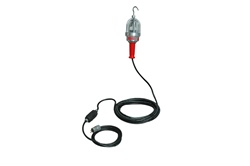 These hand lamps are equipped with an inline transformer for low voltage operation.
Kemp, Texas (PRWEB) May 30, 2014
The EHL-LED-7W-120XLV-C1D1-100-1523 explosion proof drop light from Larson Electronics comes complete with 100' explosion proof cord with an inline transformer that steps down 120-240 volts AC to 12 or 24 volts AC for powering the lamp. The drop light housing is constructed of aluminum with a rubber bumper guard designed to provide an effective lighting solution for operators requiring a versatile source of illumination. The housing is equipped with a swivel hook for hanging and hands free operation. This hazardous location hand lamp is Class 1, Division 1 approved and is equipped with a 10 watt LED bulb that projects 1,050 lumens of light. This drop light is ideal for hazardous work areas where a ready source of easily managed lighting is desired and is suitable for use in areas where petrochemical vapors and various dusts are present.
The EHL-LED-120XLV series requires the step-down transformer to be outside of the hazardous location. By incorporating a Class 1 Division 1 step-down transformer and explosion proof plug, this entire unit is explosion proof and is able to be used within the hazardous location. This hand lamp has a high efficiency LED bulb that requires no ballast, so the operator doesn't need to drag the ballast housing around. This explosion proof LED hand lamp operates on 12 volts DC or 24 volts DC for low voltage operations. The included inline transformer allows this unit to plug into a standard outlet and operate from 120-240 volts AC, then steps the current down to 12V/24V DC for operating the lamp.
"While incandescent hand lamps can generate enough heat to burn operators that may bump the light, the LED explosion proof hand lamps generally do not get above the ambient temperature of the area," said Rob Bresnahan with Larsonelectronics.com. "These hand lamps are equipped with an inline transformer for low voltage operation. The transformer is Class 1 Division 1 rated and allows the operator to use the entire unit within the hazardous location."
Larson Electronics carries an extensive line of explosion proof LED lights, LED work lights, light towers, intrinsically safe LED lights, portable work lights and industrial grade LED area lights. You can view Larson Electronics' entire line of industrial grade lighting by visiting them on the web at Larsonelectronics.com. You can also call 1-800-369-6671 to learn more about all of Larson Electronics' lighting products or call 1-214-616-6180 for international inquiries.