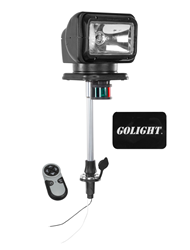 I thought it was a pretty interesting way for veterans to unplug and focus on something both recreational and challenging.
Kemp, Texas (PRWEB) July 07, 2016
Founded in 2010 by wounded warrior David Souders and his wife, Judy Souders, the organization is dedicated to helping others overcome life changing injuries from military deployment and duty. David's passion for fishing has expanded into the lives of wounded warriors, giving them the ability to enjoy life to the fullest, along with pursuing a healthy, active lifestyle. The duo originally started the foundation while living on the Eastern Shore in Harrington, Delaware. Due to work-related commitments, David was eventually transferred to North Fort Meyers. He then started going to the Ft. Myers VA clinic and invited other veterans on his fishing trips.
Larson Electronics donated GL-2110 wireless remote controlled spotlights to the foundation to help the anglers in their night time fishing adventures. This 65 watt stanchion mounted spotlight is a motorized unit that operates with a wireless handheld remote. It produces a wide spot beam with an effective working beam of 700 feet. The handheld remote features up, down, left, and right push button arrows allowing the operator to rotate the light 370 degrees with 135 degree vertical tilt adjustment. This unit incorporates red and green running lights, all mounted to a 12 inch stanchion post.
The company also donated two, 25-watt handheld LED spotlights that deliver a powerful 2,000-lumen light beam, capable of reaching over 1,000 feet. The spotlights incorporate an ABS polymer body and an aluminum alloy light head housing with a single CREE LED that is protected behind a polycarbonate lens. This unit is dustproof, shockproof, designed to survive demanding outdoor use and carries an IP65 waterproof rating. This light is powered by a detachable 16-foot coil cord terminated with a cigarette plug.
"I thought it was a pretty interesting way for veterans to unplug and focus on something both recreational and challenging," said Rob Bresnahan, CEO of Larson Electronics.
Larson Electronics carries an extensive line of LED light towers, portable power distribution systems, explosion proof lights, portable work lights and industrial grade LED area lights. You can view Larson Electronics' entire line of lighting products by visiting them on the web at Larsonelectronics.com. You can also call 1-800-369-6671 to learn more or call 1-214-616-6180 for international inquiries.