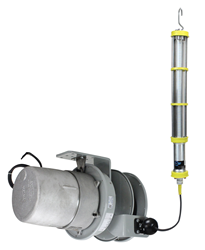 The drop light and cord reel is ideal for use in tank cleaning applications, as well as for tedious inspections in paint booth applications
Kemp, Texas (PRWEB) November 16, 2016
The EPL-FL1524-LED-25-HR from Larson Electronics is an LED drop light equipped with an explosion proof cord reel, which provides easy management of the included 25 foot SOOW cord. The included cord gives operators in hazardous locations the ability to easily extend the working reach of the attached 15 watt LED drop light. The two foot, 15 watt LED drop light features a rugged, non-sparking aluminum casing and unique rod cage. It produces a cool, glare-free, shadow-less light that improves safety in hazardous locations and maximizes lighting efficiency. The lamp has no ballast, which reduces lamp weight, an impact resistant tube shield with specially designed annealed glass and an aluminum hook for easy overhead mounting.
The explosion proof reel is rated Class 1 Division 1 and Class 2 Division 2 and includes 25 feet of cord that feeds onto the reel assembly through a four roller adjustable cable guide with a ball stop. This reel includes an integral spring actuated ratcheting mechanism for positive cord management housed within the explosion proof threaded slip ring enclosure. The cord reel is assembled to UL 508 table 36.1/NEC Standards and conforms to NEMA 9 and NEMA 4 (IP56) standards as well. The reel is built with modular components, coupled with a spark proof ratchet and hazardous location slip ring housing. This explosion proof cord reel helps safely extend the operational range of the LED drop light without creating the hazards associated with excessive cord length strewn about the work space.
"The drop light and cord reel is ideal for use in tank cleaning applications, as well as for tedious inspections in paint booth applications," said Rob Bresnahan with Larsonelectronics.com. "This unit is designed to withstand wet and corrosive conditions such as those found in docks and shipyards while maintaining explosion proof ratings throughout the whole unit."
Larson Electronics carries an extensive line of LED light towers, portable power distributions, explosion proof lights for hazardous locations, portable work lights and industrial grade LED area lights. You can view the company's entire line of lighting by visiting them on the web at Larsonelectonics.com. You can also call 1-800-369-6671 to learn more or call 1-214-616-6180 for international inquiries.