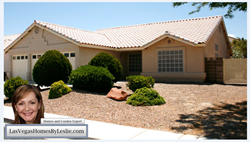 I've learned that you have to be in tune with market forces in order to leverage them to your clients' advantage
Las Vegas, NV (PRWEB) June 02, 2014
Las Vegas based Realtor Leslie Hoke enjoys meeting her clients' expectations, but she loves exceeding them. She recently sold the home of Jim and Danelle Bolton using a clever pricing strategy, resulting in the property closing in just 72 hours.
Leslie's pricing strategy included listing the home above neighborhood comps believing the final price would end up selling at market value. The clever tactic worked as she anticipated resulting in a three-day sale, and very happy clients ready to sing Ms. Hoke's praise.
"How exciting to have a closing so quickly. We all agreed that we got a good feeling when we chose to work with Leslie!" said homeowners Jim and Danelle Bolton.
The shrewd pricing tactic resulted from knowing the behavior of the tricky Las Vegas Real Estate Market as well as in-depth local research on comps and sales in the area.
"I've learned that you have to be in tune with market forces in order to leverage them to your clients' advantage. In the case of the Bolton's home on Indian Summer Drive, I figured a high price point wouldn't slow traffic, and would still result in selling the home at comp prices. It couldn't have worked out any better. And to get the home sold in three days was icing on the cake. I'm very happy for the Bolton's," Leslie said.
For more information about selling your house in Las Vegas contact Las Vegas Homes By Leslie at: 702-321-1763.
About Leslie Hoke
Leslie Hoke is an award-winning Las Vegas Realtor, and was named "Top Las Vegas Real Estate Agent" for 2011, 2012, and 2013 by RE/MAX Premier Realty Group. Ms. Hoke holds several industry certifications including short sales, single-family residents, and condominiums. She has been selling real estate in the Las Vegas area for well over a decade after a successful career with the Walt Disney Corporation. Leslie is a member of Greater Las Vegas Association of Realtors and the National Realtor Association. Known for her attention to detail, savvy negotiation tactics, and client communication, Ms. Hoke anxiously looks forward to serving her clients.
Contact Information:
Las Vegas Homes By Leslie
8872 S Eastern Ave #200
Las Vegas, NV 89123
702-321-1763
Contact Name: Leslie Hoke
Contact Phone: 702-321-1763
Website: https://www.facebook.com/LasVegasHomesByLeslie