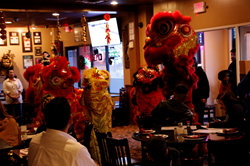 Since holding our first Lion Dance in 1975 at the corner of 3rd street and Fremont in Downtown Las Vegas, keeping up with this Legacy has been a joyful occasion
LAS VEGAS (PRWEB) January 24, 2020
Kung Fu Thai & Chinese Restaurant will be holding their annual Lion Dance ceremony in front of the Diner, on Sunday January 26, 2020, at 12:00 noon. The performance will once again be made by the martial artist from the Lohan School of Shaolin.
"Since holding our first Lion Dance in 1975 at the corner of 3rd street and Fremont in Downtown Las Vegas, keeping up with this Legacy has been a joyful occasion," says Alan Wong, General Manager of Kung Fu Restaurant. "It's not only Joyful for our associates, but, to see that our customers, whose background makeup, are like that of the United Nations, come by year after year to experience Joy, in celebrating and witnessing the ceremony, just brings warm feelings to my heart." Said Wong.
In keeping with tradition, we will be handing out the Red Envelopes or "Red Packets" to any diners who wish to donate monetary gifts to the Lions as they pass by the tables and booths. Gifts given in this manner is like throwing coins into a fountain to Westerners. Giving a Red Envelope with monetary donations in it to the Lions, is considered a Good omen in starting out a New Year. Chinese believe that performing such act, is to will in, Good Luck to the person in the New Year, as well as warding off Evil in ones endeavors.
Monetary donations are usually given in even denominations, while avoiding anything with the number 4, since the number four pronounced in Chinese means "Death". At the same time avoid giving anything ending in an odd denomination since it is associated with funerals, with the exception of the last odd number in a natural number set, the number 9, which is associated with progress to the Chinese.
To see more information about Kung Fu Thai & Chinese Restaurant visit https://www.kungfuplaza.com/. To see past Lion dance performances click on our Facebook page link on the website. The kitchen is open Every day of the year for Lunch and dinner starting from 11:00am to 10:30pm Pacific Time. Diners to Kung Fu has the option of Dining in, order Take Out, or they could have their meals delivered with our in-house delivery staff, we'll even cater their next event. Located at 3505 S. Valley View Boulevard., Las Vegas, NV 89103 USA, the Diner is just ½ mile west of the Venetian Resort on the Las Vegas Strip. For more information or reservations, call 702-247-4120.