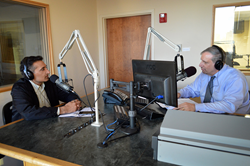 I spend a lot of time with my patients, listening to them, and hearing what their needs are...that's huge, and people respond to that
Atlanta, GA (PRWEB) January 06, 2015
Atlanta LASIK surgeon and medical director of the Atlanta Vision Institute, Dr. Farooq Ashraf, was recently interviewed on WCFO AM, also known as Newstalk 1160, by Vice President and General Manager of J.W. Broadcasting Jeff Davis. Mr. Davis had LASIK eye surgery performed by Dr. Ashraf in 2006 and was amazed at the speed of the procedure, the professionalism of Dr. Ashraf and his staff, and the immediate results he obtained. The dialogue between Mr. Davis and Dr. Ashraf explores the reasons people elect to have LASIK, such as for lifestyle or occupational reasons, as well as the technology utilized for LASIK and cataract procedures performed at Atlanta Vision Institute. The interview will broadcast January 10 on WCFO from 7:30 AM to 8:00 AM EST, and January 11 from 8:30 AM to 9:00 AM EST.
During the interview, Dr. Ashraf discusses the frequent updates made to his lasers for increased safety and precision. He shares with Mr. Davis that this technology changes almost yearly, much like cell phones or computers. Dr. Ashraf expresses that this constantly evolving technology leads to improved results, and he wants the absolute best for his patients.
Mr. Davis mentions during the interview that many people are fearful of LASIK, but Dr. Ashraf explains that his experience and personal care allow him the opportunity to alleviate his patients' fears and put them at ease.
"I think every patient is a little bit different and that's why our practice is a little bit unique compared to these laser centers," said Dr. Ashraf. "I think the biggest difference is the time we spend with the patients…the time physicians spend with their patients is getting less and less and less. So I spend a lot of time with my patients, listening to them, and hearing what their needs are. Just by doing that, Jeff, that's huge, and people respond to that."
About the Atlanta Vision Institute:
Dr. Ashraf is the founder of the Atlanta Vision Institute and is a board-certified ophthalmologist who specializes in corneal and refractive surgery, as well as other treatments for astigmatism, glaucoma, cataracts and other eye conditions. He obtained his advanced training in ocular surgery at Johns Hopkins University and has performed over 40,000 LASIK procedures. In addition to his Atlanta practice, Dr. Ashraf has also founded the Atlanta Vision Clinic in Dubai, UAE. For more information, visit http://www.atlanta2020.com/.