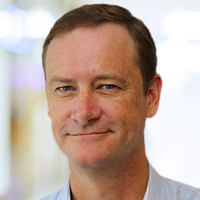 "Jon has been able to step in and have immediate impact on the business. He brings a wealth of knowledge in the space and is well positioned to help us integrate new technologies as we continue scaling to meet the growing demands of the e-commerce marketplace."
VIENNA, Va. (PRWEB) October 08, 2018
LaserShip, an e-commerce parcel carrier servicing the Eastern and Midwest U.S., announced today the appointment of its new chief technology officer, Jon Herberger. Herberger will execute LaserShip's company-wide information technology (IT) strategy and lead initiatives to implement new technologies that support the company's expansion.
Herberger joins LaserShip with many years of IT leadership experience. Prior to joining LaserShip, he was the chief information officer of PLS Logistics Services, a third-party logistics provider based in Pittsburgh, PA, where he spearheaded the creation of a mobile application to improve customer visibility in the supply chain. Herberger was also chief information officer of MYMOVE (formerly Imagitas), a media company that works exclusively with the USPS to connect brands with millions of movers by facilitating its official Change of Address process. As a member of LaserShip's executive leadership team, Herberger will contribute his expertise and future vision to the overall business strategy development. He will leverage information and technology in LaserShip's business model, business process re-engineering, products and services development, and other IT initiatives aligned with the company's overall business strategy.
"I'm incredibly excited by the opportunity and the challenge to join this incredible dynamic team, build upon the innovative technologies LaserShip has in place today, and work with our customers to provide new and compelling solutions," says Herberger.
"We are very excited to have Jon on board the executive team and heading up technology," reports Josh Dinneen, senior vice president of LaserShip. "Jon has been able to step in and have immediate impact on the business. He brings a wealth of knowledge in the space and is well positioned to help us integrate new technologies as we continue scaling to meet the growing demands of the e-commerce marketplace."
Herberger has a Bachelor of Science degree from the University of South Carolina and a Master of Science degree in information systems from The George Washington University. He is succeeding Eugene Willard, who retired last month.
About LaserShip, Inc.:
LaserShip is an e-commerce delivery company that provides last-mile solutions for shippers that desire reduced transit times and increased flexibility within their supply chain. Founded in 1986, LaserShip has evolved into the leading provider of same-day and next-day delivery services in the Eastern and Midwest U.S. for premier e-commerce and product-supply business, including five of the largest retailers in the U.S. For more information, visit https://www.lasership.com.