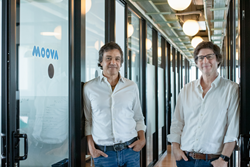 "The timing is ripe for us to scale our operations, sales and technology teams and Movile is our ideal partner to help us successfully manage what we forecast to be massive growth within Latin America in the months ahead," said Tony Migliore, founder and CEO of Moova.
BUENOS AIRES, Argentina and SAO PAULO (PRWEB) February 10, 2021
Moova, a fast-growing digital logistics platform and delivery service in urban markets that is headquartered in Argentina, today announced a strategic investment led by Movile, one of Latin America's leading investors and growth accelerators for technology companies. Moova's vision is to reimagine last-mile logistics to help create a more sustainable world.
Moova, which currently operates in six Latin American countries, will use the new funding to rapidly expand its operations and market share throughout Latin America, including Mexico, in addition to expanded growth in other geographies. It will use the funds to grow Moova's AI and data analytics team, and further update its logistics platform with new features and improved functionality. Moova provides a proprietary technology platform and a mobile app for route and fleet optimization, in addition to easy, fast access to a growing network of "Moovers" (delivery partners) who expertly execute last-mile deliveries from manufacturing facilities to retailers, or directly to consumers.
"For Movile, the investment in Moova is another step in the expansion and growth of our Latin American operations," according to Patrick Hruby, CEO of Movile. "We truly believe in the growth of the Latin American market, in general, and in logistics companies, in particular, due to the acceleration in digital commerce that we've witnessed during the last year," said Hruby. "Moova is a strategic investment and partnership for us. It will grow our logistics and delivery presence in major markets in the region."
During 2020, a year that saw e-commerce spike around the globe, Latin America achieved the strongest growth of any region in the world with a 60 percent jump in goods sold online, according to a Euromonitor study released in November. Euromonitor projects that Mexico will lead another 16 percent increase in e-commerce sales during 2021, narrowing the gap between itself and the region's largest e-commerce market, Brazil.
Moova tracks idle capacity in the fleets of established couriers or logistics companies and transforms it into highly efficient and low-cost package delivery solutions, enabling same-day delivery service. Its last-mile software platform, powered by AI, optimizes costs and routing. Moova provides full-service delivery through its Moovers, in addition to licensing its SaaS platform to enable logistics companies to manage last-mile deliveries in an efficient, transparent and controlled manner.
Moova's platform is integrated with major e-commerce platforms including Magento, Mercado Envios, Shopify, Woo Commerce, VTEX and more. Some of its 1,300+ customers today include Farmacity, MAC Cosmetics, McCain, PepsiCo, Samsung and UPS.
"The pandemic created a wide-scale change in consumer behavior, and Moova has played a fundamental role to keep people safely in their homes while receiving necessary goods from online sources," said Tony Migliore, Moova founder and CEO. "The timing is ripe for us to scale our operations, sales and technology teams and Movile is our ideal partner to help us successfully manage what we forecast to be massive growth within Latin America in the months ahead."
"Movile is one of the most successful, sophisticated and people-oriented investors in Latin America," said Migliore. "Being part of the Movile ecosystem of companies provides us with the resources and know-how to take advantage of the opportunity to transform Moova into an e-commerce logistics category leader as the segment continues its meteoric expansion during 2021."
About Moova
Headquartered in Buenos Aires, Argentina, Moova is an emerging e-commerce logistics leader in Latin America. It provides last-mile delivery services through its network of Moovers, established couriers or logistics companies with idle capacity within their fleets, or individuals who drive a bike, motorcycle or car and want to earn additional income. Moova also licenses its technology platform in a "powered by Moova" SaaS model. The company, founded in 2018, currently employs more than 70 people. For more information, visit http://www.moova.io
About Movile
Headquartered in São Paulo, Brazil, Movile is a leading Latin American investor and growth accelerator for technology companies. The Movile team is passionate about challenges and dreams big, with the goal of positively impacting the lives of 1 billion people through its technology and applications. The company employs more than 4,400 people around the world who are specialists in finance, management, culture and innovation. They work daily to support the companies in its ecosystem to achieve exponential growth. Movile Group companies include iFood, Sympla, MovilePay, Zoop, PlayKids and Mensajeros Urbanos. For more information, visit http://www.movile.com.br
Global Media Contacts:
ARGENTINA AND CHILE:
Federico Ciappina for Moova
fciappina94@gmail.com
BRAZIL:
Olivia Nercessian for Movile
olivia.nercessian@movile.com
U.S.
Chris Knight for Movile
chris@divinogroup.net
(415) 786-9226 c (on WhatsApp)