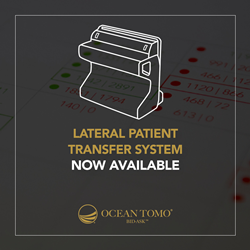 CHICAGO (PRWEB) April 01, 2021
Ocean Tomo Transactions, LLC will auction a portfolio of four U.S. patents and three U.S. trademarks for a no-lift-required lateral patient transfer system. The portfolio covers a motorized lateral transfer device (Magic Mover™) and a transfer/repositioning sheet (Magic Sheet™). The entire portfolio is available through the Ocean Tomo Bid-Ask™ Market, auction lot 140. This innovative technology enables efficient patient transfer while helping to avoid injury and discomfort to both caregivers and patients. The invention benefits healthcare companies, hospitals, and medical device manufacturers. The Innovation Group Board of Managers reinforces the importance and economic value of this technology, demonstrated in this video, sharing "caregiver injuries due to lifting patients is rampant. We want to help caregivers and institutions transfer patients without lifting, helping mitigate Worker's Compensation claims." View a video demonstration of the technology on the Ocean Tomo Bid-Ask market.
To request bidder credentials or further information on this auction or other portfolios on the Ocean Tomo Bid-Ask™ Market, contact Olivia Becker at obecker@oceantomo.com or +1 747 277 9337.
About Ocean Tomo Bid-Ask™ Market
The Ocean Tomo Bid-Ask Market is an open on-line platform to buy and sell patents. This market is an important step forward, both as a simplified solution for patent transactions as well as a source of information on patent pricing. The Ocean Tomo Bid-Ask Market uniquely combines the efficiency of an online platform with an experienced team of brokers fluent in both English and Mandarin. The market uses standard transaction documents and is open, transparent, and free to view.