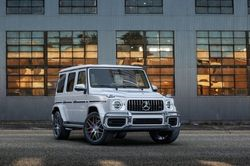 PEORIA, Ariz. (PRWEB) February 17, 2023
Customers near Peoria, Arizona, who are planning to buy a new luxury SUV this year that is posh, stylish, powerful and extremely capable can gear up for their dream purchase. Mercedes-Benz of Arrowhead welcomes the latest 2023 Mercedes-Benz G-Class AMG® G 63 SUV to its luxury inventory. It carries a next-gen design that will surely attract attention on the road. The premium vehicle is carefully handcrafted to offer high-end performance. The range of new features and enhancements in the vehicle elevates its overall driving experience.
Interested buyers close to the dealership can visit and check out the 2023 Mercedes-Benz G-Class AMG® G 63 SUV in person. This allows them to feel the vehicle. They can test drive the SUV and analyze if it lives up to its promise of offering one of the best-in-class performances. Drivers can also try the modern features and upgrades added to the SUV. People who stay far from the dealership can explore the details of this SUV via the dealership's website. They can also learn about the latest deals and offers available at the dealership.
The 577-hp V8 engine of the SUV delivers impressive power and performance on all terrains and weather. This engine reflects AMG's history of racing success.
Customers can access the arrowheadmb.com website to learn about the latest Mercedes-Benz models, new offers and top-notch services available at the dealership. For detailed information on the 2023 Mercedes-Benz G-Class AMG® G 63 SUV, they can meet the dealership team at Mercedes-Benz of Arrowhead, 9260 W Bell Road, Peoria, AZ 85382 or contact them by phone at 623-806-8764.