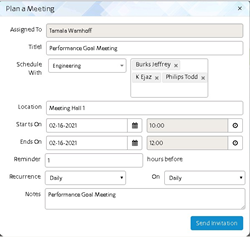 Great investment! I love that we now have an all in one platform for every HR need - and if you do not have a need for a certain module, you don't have to purchase it! We have launched each module separately. and that has worked well for our team.
LOS ALTOS, Calif. (PRWEB) April 01, 2021
SutiSoft Inc., a leading provider of cloud-based and mobile business management solutions, today announces updates to the Recruitment and Goal Management modules of SutiHR, its online HR management platform. The advanced features help attract more diverse talent and significantly reduce the impact of bias throughout the candidate evaluation process.
The interview scheduling functionality allows users to schedule interviews and with both candidates and panel members based on account preferences. The solution can accommodate auto-schedule notifications in both email and SMS formats to remind candidates and panel members of upcoming interviews.
Some of the new features include:

The system automatically restricts candidates that are applying multiple times for a position.
The solution automatically sends notifications to all stakeholders when a candidate has been moved from one stage to another in the hiring pipeline.
When scheduling an interview, HR Administrators can set multiple date and time options to check the availability of a candidate and interview panel members.
HR Administrators can delete the recruitment tasks assigned to a candidate/employee.
The solution automatically sends SMS notifications to candidates when an interview has been scheduled.
The solution allows HR Administrators to reject & archive multiple candidates at once throughout all stages of the hiring process.
The solution allows HR Administrators to send offer letters for approval that were previously issued to a candidate.
When a manager or employee adds a rating to a KPI(s), the solution automatically displays the average, weighted average, and net performance assessment Score of the KPI(s).
When planning a goal meeting, HR Administrators can now schedule the meeting for multiple employees at a time.
For more information, please visit: https://www.sutihr.com or call us on 650-969-SUTI.
About SutiSoft
SutiSoft provides a comprehensive suite of cloud-based business platforms and solutions for companies of all sizes. These platforms include scalable and easy-to-use solutions for HR, Employee Travel & Expense, Wireless Spend Management, CRM, Document Management, Business Data Analytics, and Electronic signature. Our platforms and solutions enable small, mid-size, and large enterprise customers to control costs, save time and assist in making smart business decisions. Headquartered in Los Altos, California, SutiSoft also has regional offices in Germany, India, and Japan. For additional information visit our website at http://www.sutisoft.com.