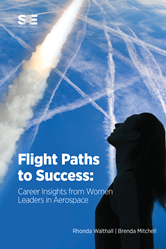 "Our goal was to profile women that have engineering degrees who have achieved significant career success in hopes of recruiting more women to our field or to help guide those that may be experiencing career frustration." Rhonda Walthall and Brenda Mitchell, book authors
WARRENDALE, Pa. (PRWEB) March 04, 2021
SAE International today announced the release of its latest book title, "Flight Paths to Success: Career Insights from Women Leaders in Aerospace," featuring 33 of the most influential women who have been, and continue to be, successful in aviation, space and academia. The book is now available for purchase at http://www.sae.org/publications/books/content/r-510/.
"Flight Paths to Success" is authored by Rhonda Walthall, technical fellow at Collins Aerospace, and Brenda Mitchell, vice president at Aloft AeroArchitects. The book's contributors—from suppliers to OEMs to higher education—candidly share their in-depth, personal perspectives on the habits, motivations, triumphs, defeats and lessons learned that helped them achieve top jobs in the industry.
"The women highlighted in this book have found ways to navigate this industry and achieve success. Our goal was to profile women that have engineering degrees who have achieved significant career success in hopes of recruiting more women to our field or to help guide those that may be experiencing career frustration," said book authors Rhonda Walthall and Brenda Mitchell. "The common theme among many of these stories is the importance of mentorship and the importance of family support when making difficult career decisions."
The book is relevant for women at all stages in their careers by providing real-world experiences to demonstrate how to take charge of one's career. The contributors offer poignant insights on such topics as personal career insights, work-life balance, mentorship/sponsorship, avoiding a career stall and powering through challenging situations.
Nicole Piasecki, the chairman of Seattle University's Board of Trustees and retired vice president and general manager of the propulsion systems division at Boeing Commercial Airplanes, noted in the book's preface: "Aerospace is a tough business, and challenges abound. A collaborative spirit, an insatiable appetite for learning, and a relentless work ethic go a long, long way."
"Flight Paths to Success" reaffirms SAE's commitment to diversity by offering insights and advice for colleagues, peers and the next generation of women entering the workforce. SAE previously published "The Road to the Top is Not on the Map" in 2019, which conversations with top women in the automotive industry.
Book Information

• Release Date: March 4, 2021
• Publisher: SAE International
• Specs: Product Code: R-510 | ISBN: 978-1-4686-0256-2| Softbound Binding
• Cost: MSRP $35.00 USD
Book Contributors (Listed Alphabetically)

• Julie-Ellen Acosta, Vice President – Boeing
• Alina Alexeenko, Professor – Purdue University
• Kim Ashmun, Director, Global Sustainment – Lockheed Martin Corporation
• Carina Birgersdotter, Principal Engineer – SAAB
• Lisa Callahan, Vice President, Programs – Lockheed Martin Corporation
• Mary Anne Cannon, Vice President – Pratt & Whitney
• Charmaine Chin, Director, Global Cleanliness Supplier Strategy – Delta Air Lines
• Nagin Cox, Mars Explorer Engineer – NASA Jet Propulsion Laboratory
• Kirsten Dreggors, Vice President, Engineering – Northrop Grumman
• Kathy Elliott, Global Lead SME – Rolls-Royce
• Carol Erikson, Vice President, Systems Engineering and Digital Transformation – Northrop Grumman
• Kim Ernzen, Vice President, Naval Power – Raytheon Missiles & Defense
• Annabel Flores, Vice President, Electronic Warfare – Raytheon Intelligence & Space
• Linda Flores, Nexus Program Manager – Bell Flight
• Mary Lee Gambone, Sector Head, Materials – Rolls-Royce
• Neri Ganzarski, Student – Washington State University
• Joan Higginbotham, Astronaut – Collins Aerospace and NASA
• Raelyn Holmes, ITC Manager – Pratt & Whitney
• Lynne Hopper, Vice President & Chief Engineer – Boeing
• Kathleen Howell, Professor – Purdue University
• Miyuki Humer, Chief Engineer – General Atomics
• Jamie Korman, Lead Engineer – Collins Aerospace
• Lorraine Martin, President & CEO, Past Executive Vice President – National Safety Council and Lockheed Martin Corporation
• Lourdes Maurice, Strategic Advisor – DLM Global
• Beth Moses, Chief Astronaut Instructor – Virgin Galactic
• Doline Peterson, Program Manager – Safran
• Deborah Rayburn, Director, GE Business & General Aviation CS – GE Aviation
• Tammy Reeve, CEO – Patmos Engineering
• Tamaira Ross, Director & Professor – Blue Origin and University of Washington
• Ginger Shao, Sr. Director, Fellow (retired) – Honeywell
• Bridget Sheriff, Vice President, Engineering & Technology – Collins Aerospace
• Amanda Simpson, Vice President, Engineering & Technology – Airbus
• Karen Taminger, Materials Research Engineer – NASA Langley Research Center
About SAE International
SAE International is a global association committed to advancing mobility knowledge and solutions for the benefit of humanity. By engaging nearly 200,000 engineers, technical experts, and volunteers, we connect and educate mobility professionals to enable safe, clean, and accessible mobility solutions. We act on two priorities: encouraging a lifetime of learning for mobility engineering professionals and setting the standards for industry engineering. We strive for a better world through the work of our philanthropic SAE Foundation, including award-winning programs like A World In Motion® and the Collegiate Design Series™. More at http://www.sae.org.
###