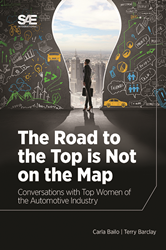 "The women in this book share a passion for their careers and a passion for the industry. They have encountered obstacles and the occasional failure, as well as successes, but they have embraced all their earned wisdom and generously agreed to share it." - Carla Bailo and Terry Barclay
WARRENDALE, Pa. (PRWEB) September 10, 2019
SAE International today announced the release of its latest book title, "The Road to the Top is Not on the Map: Conversations with Top Women of the Automotive Industry," featuring 36 of the most influential women in the automotive industry, who offer their insights and advice for colleagues, peers and the next generation of women entering the workforce. The book, on-sale on October 1, 2019, is now available for pre-order at http://www.sae.org/r491.
"The Road to the Top is Not on the Map" is authored by Carla Bailo, CEO of the Center for Automotive Research (CAR), and Terry Barclay, CEO of Inforum. The book's 36 contributors—from suppliers to OEMs to higher education—candidly share their in-depth perspectives on the habits, motivations, triumphs, defeats and lessons learned that helped them achieve top jobs in the industry.
"The women in this book share a passion for their careers and a passion for the industry," said book authors Carla Bailo and Terry Barclay. "They have encountered obstacles and the occasional failure, as well as successes, but they have embraced all their earned wisdom and generously agreed to share it."
The book is relevant for women at all stages in their careers by providing real-world experiences to demonstrate how to take charge of one's career. The contributors offer poignant insights on such topics as career challenges, education and lifelong learning, mentor and sponsor relationships, personal satisfaction, resilience, and work-life integration.
Book Information

- Release Date: October 1, 2019
- Publisher: SAE International
- Specs: Product Code: R-491 | ISBN:978-0-7680-0092-4 | Hardbound Binding
- Cost: MSRP $40.00 USD
- Website: http://www.sae.org/r491
Book Contributors (Listed Alphabetically)

- Sue Bai, Principal Engineer, Automobile Technology Research Division – Honda R&D Americas, Inc.
- Susan Brennan, Vice President and Chief Operating Officer – Bloom Energy
- Kim Brysz, Senior Vice President of Global Human Resources – General Motors
- Shari Burgess, Vice President & Treasurer – Lear Corporation
- Melissa Cefkin, Principal Researcher, Human Centered Systems – Alliance Innovation Lab Silicon Valley
- Françoise Colpron, President – Valeo North America
- Alicia Boler-Davis, Vice President, Global Customer Fulfillment – Amazon
- Corinne Diemert, Vice President of Sales – Valeo North America
- Lisa Drake, Vice President, Global Powertrain and Purchasing Operations – Ford Motor Company
- Joy Falotico, President, Lincoln Motor Company and Ford Chief Marketing Officer – Ford Motor Company
- Pamela Fletcher, Vice President-Global Innovation and R&D Laboratories – General Motors
- Elena Ford, Chief Customer Experience Officer – Ford Motor Company
- Julie Fream, President and CEO – Original Equipment Suppliers Association (OESA)
- Kara S. Grasso, Vice President, Strategic Operations – DENSO International America, Inc.
- Denise Gray, President – LG Chem Michigan Inc. Tech Center
- Elizabeth Griffith, Director of Engineering and Program Quality-GM Interior Systems – Faurecia North America
- Mary Gustanski, Senior Vice President and Chief Technology Officer – Delphi Technologies
- Marcy Klevorn, Executive Vice President and President, Mobility – Ford Motor Company
- Alisyn Malek, COO and Co-Founder – May Mobility
- Carrie Morton, Deputy Director – Mcity
- Alisa A. Nagle, Head of Human Resources – FCA - North America
- Barbara J. Pilarski, Head of Business Development – FCA - North America
- Sonia Rief, Vice President, Program Management Office – Nissan North America
- Kiersten Robinson, Chief Human Resources Officer and Group Vice President – Ford Motor Company
- Marianne Schrode, Vice President, Global Industry Affairs – Dassault Systèmes
- Christine Sitek, Chief Operating Officer, Global Connected Customer Experience – General Motors
- Anna Stefanopoulou, Professor, Mechanical Engineering and William Clay Ford Professor of Manufacturing – University of Michigan
- Maximiliane Straub, Executive Vice President and Chief Financial Officer – Bosch North America
- Dhivya Suryadevara, Chief Financial Officer – General Motors
- Kristen Tabar, Vice President – Toyota Motor North America
- Lynn Tyson, Executive Director, Investor Relations – Ford Motor Company
- Carrie Uhl, Vice President, Purchasing and Supply Chain, the Americas – Magna International
- Bonnie Van Etten, Vice President, Group Chief Accounting Officer – Fiat Chrysler Automobiles N.V.
- Marlo Vitous, Head of Supply Chain Management Planning – FCA - North America
- Judy Wheeler, Division Vice President, Dealer Network Development and Customer Quality – Nissan North America
- Kate Whitefoot, Assistant Professor, Mechanical Engineering, Engineering & Public Policy – Carnegie Mellon University
Digital Assets

About SAE International
SAE International is a global association committed to advancing mobility knowledge and solutions for the benefit of humanity. By engaging nearly 200,000 engineers, technical experts and volunteers, we connect and educate mobility professionals to enable safe, clean, and accessible mobility solutions. We act on two priorities: encouraging a lifetime of learning for mobility engineering professionals and setting the standards for industry engineering. We strive for a better world through the work of our philanthropic SAE Foundation, including programs award-winning programs like A World in Motion® and the Collegiate Design Series™. More at http://www.sae.org.