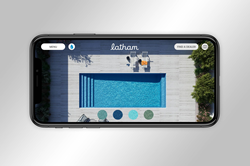 "Our goal with these digital resources was to make the pool-buying process easier, and our customers have responded enthusiastically to both tools," says Scott Rajeski, President and CEO of Latham Pool Products. "With these updates we've gone the extra mile to make them even more robust."
LATHAM, N.Y. (PRWEB) May 06, 2020
To assist consumers with all the information they need to make confident decisions, Latham Pool Products, North America's largest manufacturer of inground residential swimming pools and accessories, is proud to announce the newest version of its popular augmented reality visualization tools. Latham Liner Visualizer and the Pool Visualizer App—both launched in 2019—now offer expanded and enhanced 2.0 versions.
"Our goal with these digital resources was to make the pool-buying process easier, and our customers have responded enthusiastically to both tools," says Scott Rajeski, President and CEO of Latham Pool Products. "With these updates we've gone the extra mile to make them even more robust."
Latham is a leader in the swimming pool industry in everything it does, including in the technology customers use throughout the buying process. Latham's digital tools were groundbreaking in the industry from the start (only one other pool company offers any type of visualizer) and the new developments just serve to elevate the apps' already superior capabilities.
The Latham Liner Visualizer, available at http://www.lathampool.com, is a web-based application that allows customers to pair different house styles with a selection of liner looks, to help them imagine how a new liner would look in their own backyard.
The 2.0 update adds rich functionality to the existing tool, including:

Night shots of patterns to showcase the liners lit up at night
A navigation bar that builds and tracks the pool with an illustrated output PDF that homeowners can take to a dealer
Visuals of safety covers in four colors
Highlights of specific important product features.
The Pool Visualizer App, available for iOS, lets homeowners use augmented reality via their phone's camera to virtually build a fiberglass pool on any surface, including their own property.
The Pool Visualizer App 2.0 features:

Seven more pool shapes—rectangle, kidney, and freeform shapes as well as enhanced details and specs—for a total of 15
Adds patent-pending G2 and G3 Crystite colors for a total of 12 color options
Allows users to use the app anywhere they happen to be (even indoors) thanks to a mini AR tool that can "build" the pool on any surface
"We put our customers first in everything we do, and that extends to the technology we use and offer," says Will Cappiello, vinyl liner pools product director. "Improving the user experience and building out the features of our visualizer tools is just one important way we're putting that philosophy into practical action, and we're the only company in the industry offering tools with this functionality."
Both updates will be available on April 20, 2020.
About Latham Pool Products Inc.
Latham is the largest manufacturer of fabricated pools in the world with over six decades of experience at the center of the backyard lifestyle. Every day, families in North America, Europe and Australia enjoy the Latham pool experience. And each year, thousands more join them. When it comes to quality, selection, simplicity, and support, Latham is The Pool Company. As of December 2018, Pamplona Capital Management has a controlling interest in Latham Pool Products, Inc., and Wynnchurch Capital is a significant investor in the Company. Pamplona, Wynnchurch, management, and the founding family have partnered to position the business for meaningful growth, innovation, and international expansion.