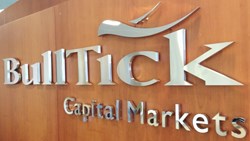 "My sense is that we'll see another pop in [Argentine bond] prices…[Fernandez de Kirchner's] chances of staying in office past 2015 are very low right now," –Alberto Bernal.
Miami, FL (PRWEB) August 15, 2013
Alberto Bernal, head of Research and managing director of Bulltick, commented on Argentina's critical legislative primary elections over the weekend, deducing that the market-friendly but poor outcome for President Fernandez de Kirchner delivered a decisive blow to her prospects for a potential third term. Alberto commented in a Reuters interview Monday morning Aug. 12th, giving his immediate reaction to the weekend's electoral outcome. "My sense is that...we'll see another pop in [Argentine bond] prices…[Fernandez's] chances of staying in office past 2015 are very low right now," he commented.
The President would need to garner more seats in Congress in October as well as a third of the Senate as she needs a two-thirds majority in both chambers of Congress to debate the constitutional change that would be required for a third term. After the weekend's outcome, this looks highly unlikely to happen. Putting this view into an actionable trade idea, Alberto also provided analysis on the attractiveness of the GDP warrants in one of Argentina's most reputable periodicals, Cronista.com. Please see article (in Spanish) here.
Alberto appeared on CNN en español last week to analyze the case of Fabrice Tourre for the CNN audience, giving his opinion on this high profile case. Watch Alberto's television appearance (in Spanish) here. This past week Alberto also penned a piece for the eminent Colombian periodical, La Republica, entitled "Peak Oil?" analyzing what may have been the potential peak in oil demand and what this could mean for the oil industry and for the Colombian economy. Read this piece (also in Spanish) here.
In its daily economic analysis, the Bulltick Research team provided its clients with analysis of Brazil's burgeoning role of public sector banks in the financial system there stating, "While the Brazilian banking sector remains sufficiently capitalized, liquid, and profitable, we view the large and expanding growing role of government and development banks in a negative light. This segment dominates the long term corporate lending market, contributes to a crowding out effect of the private sector, and in monetary policy can create credit market segmentation." Kathryn Rooney Vera noted, "Brazilian assets have taken a beating from both the fixed income and equities front with the BRL showing a steep depreciation year-to-date. Fundamentally, we remain more bullish peer Mexico versus Brazil given divergent credit trends driven by market-friendly reform (former) or lack thereof (latter)."
With much client focus on the Federal Reserve's imminent change in its quantitative policy, Bulltick Research contends that a disappointment in the August NFP number will decrease the probability of a September taper. When the Fed does taper its pace of monthly asset purchases, the Research teams states that "this scale-back is likely to involve very gradual reductions in the monthly pace of asset purchases by some $20 billion until the monthly asset purchases are completely phased out by mid-2014. Monetary policy will remain highly expansionary, however, with the fed funds on hold at de facto 0% likely through the end of 2015 and the Fed unlikely to ever sell assets on its balance sheet but rather let them roll off."
About Bulltick Capital Markets
Bulltick Capital Markets Holdings, LLC, through its subsidiaries, is a securities brokerage, asset management and investment banking firm that provides its clients with diversified financial products by leveraging its Latin American roots and international expertise. We offer insight, opportunities, and top execution services to financial institutions and qualified investors.
Headquartered in Miami, Florida with offices in Mexico City and Bogota, we are optimally positioned to serve the needs of Latin American and other clients seeking access to and expertise in US and global securities markets. We maintain our local roots, insight and networks within Latin America for the benefit of our clients. We offer our clients the personal service and flexibility of boutique firms along with the financial capabilities of larger institutions. We deliver services through five business lines: Sales and Trading, Full Service Brokerage, Wealth Management, Investment Banking, Research.