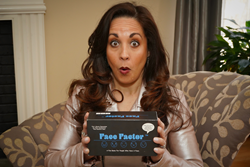 "M​y love of games and COVID-19 quarantine inspired me to create an experience that will bring laughter and joy to others in person or online...one face at a time!"​ - Liza Rivera Salta
NORWALK, Conn. (PRWEB) March 10, 2021
Latina entrepreneur Liza Rivera Salta used her time during the COVID-19 quarantine to bring her game idea to life. ​She researched the face muscles, expressions, psychology and human emotions. A true grassroots effort, her son created the logo and a prototype was created, play-tested and refined. ​Face Factor™ is now available on Amazon. It is proudly manufactured in the USA.
Face Factor™ ​can be ​played in person ​or​ online​ via Zoom, FaceTime, Skype, etc. The game contains 200 cards with over 500 facial scenarios such as ​the face made '​When exhausted and get a chatty Uber driver.', ​'​When on a date and the server is an EX.​', or '​When​ ​someone opens the door while in the bathroom!'
"M​y love of games and COVID-19 quarantine inspired me to create an experience that will bring laughter and joy to others in person or online...one face at a time!"​ - Liza Rivera Salta
Face Factor™ is for ages 17+ and includes some humorous suggestive content. ​Salta's future plans include creating themed expansion packs as well as offering them in different languages.​ ​To find out more visit:​ ​http://www.facefactorgame.com
This is Salta's first venture into the world of party games. ​She holds an M.B.A. in international business and finance and has worked in the entertainment arena including music, video games, developed an iPhone app and was an executive producer of the ​Dance It Out​ TV show on Lifetime. Salta is now committed to sharing Face Factor™ to offer much needed human connection and enjoyment: hopefully coming to a faces everywhere.