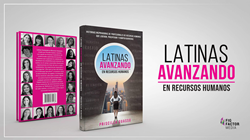 "This has always been a dream of mine and it's continuing and it's growing. As Latinas, we have so much to give, to the world and to our work and especially in the HR world."
CORAL GABLES, Fla. (PRWEB) November 03, 2021
A year ago, author Priscilla Guasso, a 15-year experienced HR leader based in Chicago and Miami, launched her book "Latinas Rising Up in HR: Inspirational Stories of Human Resources Professionals Leading, Thriving, and Breaking Barriers." Guasso was inspired to create a platform after she began to notice this lack of diversity in executive roles and decided to bring to light and create a community for Latina professionals.
Fast forward a year and at the end of Hispanic Heritage Month, Guasso launched the Spanish translation version of "Latinas Rising Up in HR" called "Latinas Avanzando En Recursos Humanos: Historias Inspiradoras De Profesionales De Recursos Humanos Que Lideran, Prosperan Y Rompen Barreras." Now in Spanish, Guasso is excited to expand the accessibility of the book and hopes to share the stories with more readers and professionals to enjoy.
The book's preface is written by NBC Universal Vice President of Diversity and Inclusion Salvador Mendoza. A mentor to her, Guasso credits for his guidance and tireless advocacy of her growth and success.
The following 20 authors featured in the book:

Priscilla Guasso, Speaker, Author & Founder of Latinas Rising Up In HR
Valerie Hope, Leadership Coach & Professional Speaker
Stephanie Martinez, CEO & Founder, HRDesigned4U, LLC
Janine Ting Jansen, Senior Director of Inclusion & Diversity
Irma I. Reyes, Director of HR
Katie Lopes, HR Anthropologist
Naysa Aparicio-Hernandez, Chief Officer of HR
Susana Mota, HR Business Partner
Edith Pacheco, Benefits Manager
Pamela Burga, Diversity & Inclusion Leader
Myriam Del Angel, HR Manager
Karina A. Jimenez, Regional HR Manager
Griselda Rodriguez, Sr. Director of Total Rewards
Sonya Lamas, HR Director
Monica Tijerina, Corporate Social Responsibility Strategist
Francisca Phillips, Engagement, Diversity & Inclusion Leader
Mercedes E Jaime, Supplier Diversity Professional
Isabel Montes, Human Resources & Learning Director
Karina Pro, Sr. Director of Human Resources
Luz Perez, HR Leader of Canada
The book's recent launch in Coral Gables was a hybrid event with an in-person component where various authors and guests attended as well as a virtual option to reach a global audience. All 20 authors had the opportunity to share a few words about their experience participating in the book and about their HR careers.
During the hybrid launch, Guasso mentioned the six 2021 scholarships winners from the two scholarships offered through the platform: Latinas Rising Up in HR Student Scholarship offered to students ages 17-24 and the other Latinas Rising Up in HR Professional Scholarship offered to professionals with two to seven years' experience. A portion of the book proceeds of both books will continue funding these scholarships in 2022.
"This has always been a dream of mine and it's continuing and it's growing," said Guasso as she kicked off the bilingual event. "As Latinas, we have so much to give, to the world and to our work and especially in the HR world."
While she once had the vision to create a community to share their experiences, tips, and stories and to empower each other as they navigate their careers in human resources, Guasso has fulfilled her vision as now has over 800+ community members through her platform on Facebook and LinkedIn as well as a growing following on Instagram and Twitter.
"I can already see how bright the future is. We are really doing this. This is a true community that is rising!" she added.
For more information about the book and to purchase a copy visit http://www.latinasrisingupinhr.com.
Marketing partner support of this launch includes:

CDW
CHCI Alumni Association Chicago
FAIRYGODBOSS
Hermandad de Sigma Iota Alpha, Inc.
Hispanic Alliance for Career Enhancement
Hispanic Association of Colleges & Universities
Hispanic Executive
Hispanic Star
HRhotseat
Hyatt
Latina Style Inc.
Latinas and Power, Corp.
Latino Corporate Directors Association
Latino Economic Development Center - MN
Latino U College Access
National Association of Women Business Owners in MN
National Hispanic Corporate Council
Prospanica Chicago
Prospanica NYC
RJW Logistics Group
SHRM
SHRM Chicago
The Latinista
University of Illinois' Latino Latina Alumni Association
We Are All Human
About "Latinas Rising Up In HR"
"Latinas Rising Up in HR" created by Priscilla Guasso proudly showcases inspirational stories of aspiring human resources professionals who overcame obstacles and defied statistics to achieve their dreams in corporate America, nonprofit and as entrepreneurs. Their experiences answer the question, "Why aren't there more Latinas in executive leadership?" and show how determination, grit, and finding the right mentors can pave the way to opportunity for anyone of any background. Be inspired by their personal wisdom in the Reflect and Rise micro-mentoring moments at the end of each chapter, and you too can continue to rise to your dreams.
About Fig Factor Media:
Fig Factor Media Publishing is an international publishing company with a "beeping" heart. Fig Factor Media has helped many authors achieve and support their dream of impacting their communities in the United States, Mexico, and Europe. Fig Factor Media is the official publisher of Today's Inspired Latina. For information, visit http://www.figfactormedia.com. ###