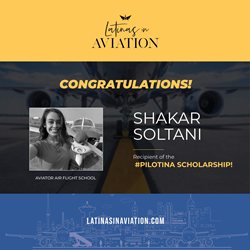 "People with my upbringing don't normally do what I'm so lucky to do. I want to change that, and I know you all do too. I oftentimes wonder what I did to deserve this beautiful life I live. I'm so grateful."
NAPERVILLE, Ill. (PRWEB) February 03, 2021
Fig Factor Media announced Shakar Soltani of Dallas as the winner of the inaugural #PILOTINA Scholarship. Valued at $5,000, the scholarship will help Soltani fulfill her educational dreams in building a career in the aviation and aerospace industries.
Proceeds from the bulk sales of "Latinas in Aviation," an inspirational, nonfiction book presenting the stories of Latinas in this industry by Fig Factor Media, help fund the scholarship. Fig Factor CEO and Founder Jacqueline S. Ruiz said that the inspiration for her to create such a scholarship came from a chance meeting with Evelyn Miralles at the United Nations in New York. Miralles, the former chief principal engineer for the Virtual Reality Laboratory, an astronaut training facility at NASA Johnson Space Center in Houston, wrote the preface of "Latinas in Aviation."
"I LOVE aviation because it has changed my life in so many ways and the passion that I feel for the industry leads me to create children's books, products, the "Latinas in Aviation" book and the Latinas in Aviation Magazine," said Ruiz, herself a licensed sports pilot. "I want to support young Latinas who want to enter the aviation and aerospace industries. I'm committed with all my heart to help them while I pursue my next license and ratings as a pilot."
About 20 applicants entered the contest which was open to women ages 18 to 25 of Latin American origin or descent who live in the United States and are pursuing a Science, Technology, Engineering or Math (STEM) degree and are seeking to enter the aerospace industry, or be pursuing aviation. Ten judges reviewed the submissions and chose Soltani.
In her essay, Soltani described how she developed a strong work ethic at a young age as she lived in a low-income household with her Iranian-born father, Mexican-born mother and five siblings. While earning a Bachelor of Arts in business administration in marketing from Texas Woman's University, she was one of 132 selected from almost 10,000 applicants to participate in Southwest Airlines' internship program. It was a rewarding experience as she developed critical thinking skills and learned how to collaborate and consult with the Southwest Corporate Sales team.
Soltani graduated in 2017. After her internship, she became a flight attendant for Spirit Airlines, and her love of aviation flourished. Her interest in becoming a pilot came from meeting one of the airline's 68 women pilots who became a mentor and invited her to the 2019 Women in Aviation Conference. Soltani signed up for a discovery flight and never looked back. She has been active in 11 aviation organizations, volunteered for 16 career days, and has been a speaker.
There have been challenges and sorrows that put Soltani on an emotional rollercoaster ride of depression, anxiety, intimidation, and exhaustion. Last year, she lost two family members to COVID-19 and put her dream of completing her private pilot certification process on hold due to the expensive costs of aviation school. Working as a substitute teacher for the Dallas Independent School District, it will take Soltani many years to save up to attend aviation school. The scholarship came at the right time for her.
Receiving the scholarship check in her hands brought Soltani to tears because she knew she could resume her dreams of being a professional pilot and a role model of resilience and perseverance.
"It was so hard to overcome my depression and anxiety, but I did and it's because of supporters like you," Soltani explained. "People with my upbringing don't normally do what I'm so lucky to do. I want to change that, and I know you all do too. I oftentimes wonder what I did to deserve this beautiful life I live. I'm so grateful."
For more information about Fig Factor Media, visit http://www.figfactormedia.com.
About Fig Factor Media:
Fig Factor Media Publishing is an international publishing company with a "beeping" heart. Fig Factor Media has helped many authors achieve and support their dream of impacting their communities in the United States, Mexico and Europe. Fig Factor Media is the official publisher of Today's Inspired Latina. For information, visit http://www.figfactormedia.com. ###