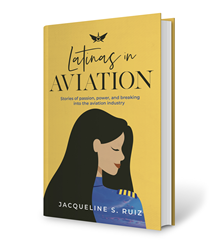 "Aviation for me has become the true testament of my dedication to my dreams, and therefore the elevation of other dreams in the community."
NORTH AURORA, Ill. (PRWEB) August 12, 2020
Latinas have made strong and powerful inroads in many industries throughout the world. However, they are a rare breed in the aviation and aerospace fields.
According to the International Society of Women Airline Pilots' July 2020 Worldwide Female Airline Pilot Numbers by Region report, the total percentage of female pilots in the United States is only 5.27%. Within this group, Latinas are most likely in the minority.
To celebrate the achievements and contributions of Latinas in these fields, Fig Factor Media Publishing is making history by launching its newest work: "Latinas in Aviation." The book, which will be virtually launched at 10 a.m. CST Aug. 15 on Facebook Live and be available on Amazon that same day, presents for the first time 22 authors who share their personal stories filled with achievements, struggles and challenges. The book's preface is written by Evelyn Miralles, one of the book's authors and the former chief principal engineer for the Virtual Reality Laboratory, an astronaut training facility at NASA Johnson Space Center in Houston.
The following authors are:

Jacqueline Camacho, JJR Marketing and Fig Factor Media Publishing CEO
Graciela Tiscareño, U.S. Air Force Veteran/CEO of Gracefully Global Group, LLC;
Olga Custodio, retired USAFR Lieutenant Colonel and American Airlines captain
Jackie Pulido, Airbus 320 captain and flight instructor
Andrea Palacios, captain of Embraer 190 for Conviasa Airlines
Jessika Hernandez, JW Aviation flight instructor
M. Elena Alvarez, transformation manager at Airbus Defence & Space
Maria Laskowski, multinational account manager for Aeroméxico
Lizbeth Alvarado, air traffic controller at O'Hare International Airport
Susana Ibarra Cáceres, first officer for Kuwait Airways
Jeannette Collazo, aspiring aviator and president of Lurdez Consulting Group, Inc.
Jacqueline Prences, internationally-certified pilot and owner of Nevería Michoacána LLC
Ana Uribe-Ruiz, co-president of the Bay Area Chapter of Women in Aviation International
Amanda Grace Colón, aircraft mechanic and accident investigator
Daniela Carabajal, corporate pilot
Melissa Montiel, first officer for Skywest Airlines
Paula Gomez, first officer for Copa Airlines
Castalia Serna, deputy commissioner for Concessions & Customer Service at Chicago Dept. Of Aviation
Yasmine Aru Arab, ATP flight instructor
Linda Pauwels, American Airlines captain B787 and air check man
Sandra Granados, lead flight technician for Gary Jet Center/Boeing Exec. Flight Operations
The launch will present a range of dynamic speakers that include veterans, new graduates, pilots as well as aviation administrators, military and civilians and some of the authors—all with a unique passion for aviation and its impact on our world.
Ruiz, who oversaw this impressive and inspirational book project, shares a similar affinity with these authors for aviation.
"Aviation for me has become the true testament of my dedication to my dreams, and therefore the elevation of other dreams in the community," she said.
Authors such as retired USAFR Lieutenant Colonel and American Airlines Captain Olga Custodio inspire readers and set the stage for the next generation of Latinas who look to the sky with a dream.
Writing about her experience, she said: "I could never have imagined I would become the first Latina U.S. military pilot and first Latina American Airlines pilot."
One hundred percent of the proceeds from book sales will go directly to the #Pilotina scholarship which was created to help young Latinas with dreams of entering the aviation and aerospace industry.
To experience this exciting book launch, register by visiting this link: https://bit.ly/LatinainAviationBookLaunch.
To get your copy of the book,https://bit.ly/LatinasinAviation
For information about Fig Factor Media, visit http://www.figfactormedia.com.
About Fig Factor Media:
Fig Factor Media Publishing is an international publishing company with a "beeping" heart. Fig Factor Media has helped many authors achieve and support their dream of impacting their communities in the United States, Mexico and Europe. Fig Factor Media is the official publisher of Today's Inspired Latina. For information, visit http://www.figfactormedia.com. ###