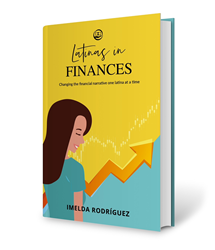 "I think that Latinas aren't represented as much in the financial fields because there are too many barriers or obstacles in reference to education and workforce participation. There are also other things such as a gender pay gap, economic insecurities, sex, migration status, and our own culture,"
NAPERVILLE, Ill. (PRWEB) January 23, 2023
According to a recent moneygeek article about Latina finance influencers to follow, the online publication presented a U.S. Bureau of Labor Statistics saying that "Hispanics represent only 12.9 % of the finance sector."
That is a number that Chicagoland financial coach Imelda Rodriguez would like to change, and she hopes to encourage Hispanic women to go into that sector with her new book called "Latinas in Finances."
"I think that Latinas aren't represented as much in the financial fields because there are too many barriers or obstacles in reference to education and workforce participation. There are also other things such as a gender pay gap, economic insecurities, ethnicity, sex, migration status, and our own culture," explained Rodriguez who also has a background in business administration. "I found an interesting statistic according to the AAUW Latina Initiative. This report said that 'Latinas are underrepresented in well-paying management, business, and financial operations occupations: one in five white women work in these occupations compared to nearly one in eight Latina women.' I'm hoping this book will encourage Latinas to find their place in the financial industry."
Published by Fig Factor Media, the book presents 18 Illinois-based authors who share their stories of how they built their careers while facing challenges and achieving success while working in various occupations. Some of the authors work as business consultants, insurance brokers, tax professionals, financial coaches and real estate investors, attorneys, and agents.
The following authors are:

Imelda Rodriguez (main author)
Adriana Galvan
Michelle Velasquez
Cristina Pineda
Jackie Carpintero
Glenda Alvarado
Liz Quintana
Aracely Markowski
Rubi Velazquez
Tiffany Jimenez
Mary Buitron
Denise Krohn
Martha Razo
Nancy Piña
Evelin Fretyas
Maria Ramos
Connie Alban-Franco
Cynthia Beltran
Rodriguez sees her book as more of a movement ready to support these Latinas by creating resources such as scholarships, discussion panels, workshops, and conferences. Most importantly, the book gives these authors a way to present their experiences.
"Through our stories, we are giving voice to the ones not being able to speak up," she said. "We are speaking up by sharing our stories with the world, and something will happen. Statistics will change because we are being part of the solution."
One of the authors who contributed was Jimenez, a married mother of three and a bilingual top-producing real estate broker with Coldwell Banker Realty in Chicago's wealthy Gold Coast neighborhood.
She wrote about the importance of controlling her financial future when she was a single mother at 17. She wrote how as she "became intrigued with finance, my goal was to be a top producer in the real estate industry. I was intentional about surrounding myself with the right mentors and colleagues. I spent hours reading books and being coached. I wanted to learn everything I could from the best in the business. I was a quick learner and fast implementer because I knew time was money."
Jimenez said that being a contributing author in this book "allows me an opportunity to share my journey throughout life and in the finance industry as a way to motivate and inspire other Latinas."
"Latinas in Finances" is available on Amazon.
About "Latinas in Finances":
We are not seeing ourselves represented in important financial conversations. Per the Economic Policy Institute in 2020, only 10% of Latinas are represented under management, business, and finances versus 18% of white women. Discrimination and bias based on race, ethnicity, sex, and migration status have intersected to funnel Latinas into lower-paying occupations and deny them fair wages for their work.
"Latinas in Finances" is a collaboration of women that share their personal stories of success and their falls in their relationship with finances. Hear from Latinas in the financial field who are enthusiastic to motivate our community and generations to come.
This is not just a book but a movement aiming to build generational wealth and to increase the percentage of Latinas who work in the financial industry. With "Latinas in Finances," the best is yet to come! ###