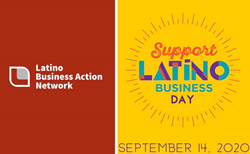 "During this particularly critical and challenging time for our Latino community in our American history we must leverage our signature resilience and ganas to become architects of our solutions."
SAN JOSE, Calif. (PRWEB) September 14, 2020
Support Latino Business (SLB), a nonprofit dedicated to championing Latino/x small businesses partners with community organizations, business leaders and elected officials to host its second annual National Support Latino Business Day on September 14, 2020. One day in advance of Hispanic Heritage Month, the community day of action is dedicated to highlighting the significant contributions of the Latino/x business community by shopping, celebrating and supporting Latino/x-owned small businesses.
"During this particularly critical and challenging time for our Latino community in our American history we must leverage our signature resilience and ganas to become architects of our solutions," remarked Latino Business Action Network, CEO Mark Madrid. "Over the last ten years, Latinas and Latinos are starting businesses faster than any other group in the U.S. It is an American economic imperative to empower and elevate them. This is our collective opportunity to show fellow Americans, through actions—and not just words—just how much we appreciate our Hispanic business owners across our 50 states and Puerto Rico. And when we do, juntos, our actions on September 14th will send a message loud and clear to our Latinx entrepreneurs, many of whom are fighting for their business lives because of COVID-19 and our current atmospherics of inequity and unlevel playing fields. The message is, 'we are with you'. Join us, as we act with urgency."
The Support Latino Business network has come together with Mayors from across the country including Austin, Boston, Charlotte, Dallas, Denver, District of Columbia, El Paso, Houston, Lawrence, Los Angeles, McAllen, Oakland, Orlando, Philadelphia, Phoenix, San Francisco, among others to issue city proclamations in observance, urging communities to support the local Latino/x business community.
Support Latino Business, with generous donations from supporters, announced the launch of the Support Latino Business Impact Fund to provide grants to Latino/x-owned small businesses across the country. To be eligible, companies must be majority Latino/x-owned, have been in business for at least one year and sign up for the FREE Support Latino Business Directory at http://www.supportlatino.biz. Grants must be used to directly support the applicant's business. The application process will open on Monday, September 21. Visit the website for more information.
National Support Latino Business Day consists of four key stages: a national day of action on September 14; the building of a comprehensive business directory of Latino/x-owned companies; the establishing of a one-stop-resource hub for entrepreneurs; and the creation of a financial fund to help provide grants to Latino/x small business owners. As part of a larger mission, partners will work to continue the National Support Latino Business Day momentum through the daily spotlighting of Latino/x businesses, the fostering of a strong business network, financial resources, mentorship and more.
Created for the community by the community, the Support Latino Business initiative is championed by a diverse group of leading national organizations including LBAN. To join Support Latino Business movement, visit http://www.supportlatino.biz/.
ABOUT Latino Business Action Network (LBAN)
Latino Business Action Network (lban.us) is a 501(c)(3) nonprofit organization with the purpose to strengthen the United States by improving the lives of Latinos and the goal to double the number of $10+ million, $100+ million, $1+ billion Latino-owned businesses in the U.S.by 2025. Victor Arias, Jr. is Chairman of the Board, Professor Jerry I. Porras, Chairman Emeritus and Mark L. Madrid, CEO.
ABOUT Support Latino Business
Support Latino Business is a national community-led initiative shining a light on the significant economic contributions Latino businesses make, the jobs they help create, and the positive impact they bring to all local communities and the U.S. economy. One of the nation's most diverse network of partners – including business leaders, owners, entrepreneurs, local activists, community organizations, elected officials, and corporate brands – come together to tell stories about the impact Latino/x businesses have today, and the endless possibilities they'll be realizing tomorrow. For more information or to be a part of the Support Latino Business movement, visit: http://supportlatino.biz/.