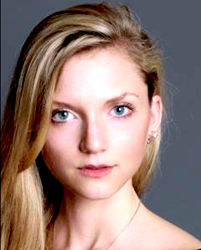 A true "Superfood," Spero Foods' Scramblit eggs provide more protein, omega 3's, iron, zinc, magnesium and 30 times the antioxidants of animal eggs ...
SAN JOSE, Calif. (PRWEB) April 15, 2019
It's not often you hear the words "pioneer" and 27-year-old in the same sentence. However, Phaedra Randolph fits both descriptions. An intensely hardworking autodidactic, Phaedra healed her IBS and chronic migraines by converting to a plant-based diet at the age of seventeen. Ten years later, Phaedra Randolph is the YCombinator-backed CEO of Spero Foods, and has launched a new category of flavorful, sustainable and nutrient rich non-dairy egg and cheese products—along with multiple patent pending processes to boot. Spero Foods' line of products are available online at http://www.SperoFoods.com.
"It all started because I was determined to heal myself of IBS and chronic migraines which were impacting me while I was training for NCAA recruitment. But I'm also obsessed with solving problems," Randolph admits.
Phaedra's friends and family witnessed her remarkable health improvements as a result of her plant-based lifestyle and wanted similar results for their health issues as well. Yet the lack of flavor and the high cost of most plant-based dairy and egg products made it too unappealing for them to make the switch. Determined to solve this problem, Phaedra set out to create plant-based dairy and egg products that were delicious, healthier than competition and affordable as well. What resulted is a solution that would turn out to be at least ~30 times more nutrient-rich and created by means that are at least ~20 times more sustainable than animal egg and cheese products. Phaedra Randolph accomplished even more than what she initially set out to achieve.
Dubbed a "Superfood," Spero Foods' Scramblit eggs provide more protein, omega 3's, iron, zinc, magnesium and ~30 times the antioxidants of animal eggs. Scramblit is also ~20x more sustainable. Likewise, Spero Foods' plant-based cheeses are packed with protein, minerals and vitamins like iron, zinc, magnesium, vitamin E and antioxidants—in contrast to most plant-based 'dairy' items which have little to no nutritional value. Even more, all Spero products are made from real food ingredients, without any preservatives, fillers, or isolates.
Spero Foods was named the "Standout Startup" in January 2019 by Food Business News, and it's been described as "ground breaking" and "second-to-none." Yet its founder says Spero Foods is simply the result of reverse engineering. "I studied optimization in college—which is a method for determining an ideal outcome based on a number of constraints—creating an optimal solution. And for me, that meant creating food that tastes great, is nutrient-dense, clean, and scalable. Miraculously, it worked," shares Randolph.
Lauded by Forbes Magazine as one of 50 Women Led Startups Who Are Crushing Tech, Phaedra Randolph emerged as a leader in the nondairy/plant-based community long before founding her innovative company. While in undergraduate school at Cornell University, Phaedra co-founded the "Cornell Vegan Society", an organization that helped shape the food offerings on campus and the cross-departmental collaborations on plant-based diets. She was a founding organizer and director of "Harvard's Ivy League Future of Food Conference," designed to bring into academia a discourse around bioethics, health and society as it pertains to plant-based diets, by partnering with renowned thought leaders and scientists such as Cass Sunstein and Walter Willett, PhD.
Later, in her work environment as a software developer at Facebook, Randolph founded Plant-based Life@ Facebook HQ which worked with dining and sustainability departments on sustainable eating, and also brought in renowned speakers such as Michael Greger, MD and the producers of the Game Changers Film. What started out with one member (herself), grew to become one of the most prominent employee organizations at Facebook—garnering mention in Forbes Magazine.
Today, Spero Foods is scaling fast—expanding its patent-pending manufacturing operations and planning for a second round of funding. If its future is anything like its start, even the sky is not the limit. Guided by a CEO with boundless vision, energy and innovative ideas, Phaedra Randolph immerses herself whole-heartedly in every challenge, and she does not quit until she has found a solution.
"I'm super excited about what we have created, but Spero Foods is just getting started. We're still learning—and we're always finding new problems to solve," says Randolph.
ABOUT SPERO FOODS
Founded in 2016, Spero Foods is on a mission to make everyday dairy products into delicious, sustainable and nutrient-dense, healthy foods. Phaedra Randolph, the founder of Spero Foods, healed herself from migraines, IBS, and seizures, by adopting a plant-based diet. Ten years later, Phaedra created Spero Foods ('Spero' means 'hope' in Latin), to help heal others while also healing the world with its environmentally-sustainable business model. A former Data Analyst turned Software Engineer at Facebook, Phaedra served as a software engineer at two (later acquired) startups and earned a B.S. in Operations Research and Information Engineering and Pre-Medicine from Cornell University. Phaedra is also the Founder/ former President of Plant-based Life@ Facebook HQ, the Co-Founder/President of Cornell Vegan Society, and Director of Harvard's Ivy League Future of Food conference. Spero Foods has earned the title, Standout Startup of the Winter Fancy Food Show by Food Business News and 50 Women Led Startups Who Are Crushing Tech by Forbes. Backed by the prestigious YCombinator, the same accelerator that incubated Dropbox and AirBnB, Spero Foods is leading a new, nondairy SUPERfood revolution. Spero Foods' line-up of delicious, healthy, sustainable food items are available at http://www.SperoFoods.com. For interviews, contact Anita S. Lane at AnitaSLane@SenseiCommunications.com or via phone at 313.447.9083.
###
iper serving
~in terms of Greenhouse Gas Emissions (kg CO2 per volume of whole eggs vs Scramblit)
^in terms of Greenhouse Gas Emissions (kg CO2 and kg CH4 per lb of average dairy vs spero cheese)
**in terms of kg of carbon dioxide equivalents (CO2e) per kg of consumed product
*sperofoods.co/citations