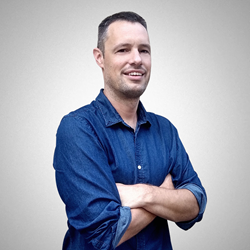 I strongly believe the key to creating impactful experiences is through understanding and championing customer and business needs
ATLANTA (PRWEB) August 18, 2020
Atlanta experience design agency Launch has hired Steve Boulton as Director of User Experience to lead the design and development of multi-platform products and experiences that help companies connect with their customers.
"Steve's talent elevates our experience design, creativity and web expertise," said Launch Co-Founder David Preiss. "With Steve leading the user experience team, we will continue evolving the types of products and experiences we create and expand our offerings further into physical, voice, AI and more."
Before joining Launch, Boulton spent six years at global design agency frog, leading innovation and design programs for B2B and B2C clients from the company's Milan studio. Throughout his career, Boulton has worked within a spectrum of industries, such as healthcare, travel, sports, consumer technology, and media and entertainment. He has partnered with brands across the world, including GE, Sony, News Corp, BBC and Meizu.
"I strongly believe the key to creating impactful experiences is through understanding and championing customer and business needs," said Boulton. "By joining Launch, I've become part of a forward-thinking team pushing the boundaries of technology and innovation."
ABOUT LAUNCH
Launch is an experience design agency that combines data, strategy, design and technology to create meaningful products and experiences that help companies thrive. Launch was named among Inc.'s fastest-growing private companies in 2018, growing more than 200 percent over three years and nearly doubling in size and revenue. Powered by a team of thinkers, artists, creators and storytellers, Launch partners with top brands across a range of industries, including Salesforce, Autodesk, The Home Depot, NCR, Splunk, Char-Broil, Gas South and more. For additional information about Launch, visit http://www.launchxd.com.