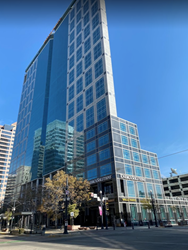 Salt Lake City is a market bursting at the seams with growth potential. As a leading B2B lead generation provider, our team will bring services that many in B2B sales are looking for as they grow their business. - Scott Smith
SALT LAKE CITY (PRWEB) November 19, 2020
After a successful year, Launch Leads is moving into a new office space in Salt Lake City, Utah. Located in the iconic Wells Fargo Building, Launch Leads' new offices will continue creating innovative B2B lead generation solutions.
"As we looked for new office space, Wells Fargo quickly rose to the top of our list. Not only is it a longstanding pillar of the Salt Lake community, but it stands as a beacon for Utah's growing business and tech market. Our team is excited to begin our work in the new space, hoping to inspire our current client base and welcome new ones from the SaaS market to data consultants to software development and more," said Scott Smith.
Launch Leads' new space offers the team room to grow within Utah's most affluent community. The office is not only in the epicenter of Salt Lake City but also in the middle of its cultural experience. Clients and employees can find all they need within walking distance of the Wells Fargo building, including retail stores, restaurants, the Gallivan Center, Vivint Smart Home Arena, and the city light rail system, TRAX.
"Salt Lake City is a market bursting at the seams with growth potential. As a leading B2B lead generation provider, our team will bring services that many in B2B sales are looking for as they grow their business. This new location will allow us the space we need to create solutions that accelerate that growth using B2B lead generation, demand generation, and qualified appointment setting," explained Scott Smith.
Since Launch Leads' beginning, Forbes, Forrester, and numerous other trusted publications featured their appointment setting and lead generation services. Inc. 5000 also recognized Launch Leads in their list of America's Fastest-Growing Private Companies in 2017, 2018, and 2019.
About Launch Leads
With over a decade of experience in enterprise, mid-market, and start-up B2B sales, Launch Leads understands what it takes to drive interest and increase sales. Some services include lead-generation services include qualified appointment setting, rapid inbound lead response, hyper-targeted lead lists, lead qualification, dead lead revival, and more.
Businesses interested in learning more about Launch Leads can visit our lead generation services page for a Free Needs Assessment. For additional information, contact Launch Leads at (877) 466-0111.