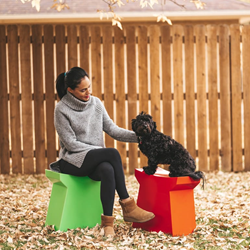 MB Home Collection is the place to go when you want to find something no one else has or ever will have.
DENVER (PRWEB) March 12, 2021
The newly launched MB Home Collection line is a colorful, luxury line of home decor accessories that features designs, patterns, and textures to suit every taste and style. Interior designer and entrepreneur, Margarita Bravo, created this collection to offer her clients in Denver and the rest of the US one-of-a-kind pieces that suit their distinct lifestyles and personalities. All of the products (except the vintage, antique, and art pieces) are designed and made in the USA with low impact on the environment.
Margarita has extended the eclectic, modern aesthetic of her interior design to the home collection, and the result is a stunning array of prints, patterns, and textures. Abstract pops of color are juxtaposed with a ring of bright, solid color; tribal prints and geometric patterns add a dash of quirk to the collection, and figurative graphics are sure to be an eye-catching addition to the decor of any home.
"We provide the discerning consumer with not only high-quality items but pieces that they can find nowhere else," shared Margarita. She continued, "All products that are made by MB Home Collection (except the vintage and antique pieces and the art) are made in the USA and crafted sustainably. We have a commitment to creating pieces that are going to not only look incredible for years to come but also have a low impact on the environments they are made in."
The inspiration for the MB Home Collection comes from Margarita's vision of innovating and stepping out of her comfort zone to offer her clients more than just interior design services. She aims to inspire women to be leaders and she leads by example. The collection flaunts high-quality pieces that can't be found anywhere else. It includes custom handmade pillows, curated art with one of a kind framing, hand-designed & crafted masks, and much more. Several of the pieces are handmade by Margarita. The idea is to ensure that her clients have personal items and decor that no one else will have, as each piece is exclusive and bespoke.
Shop the MB Home Collection here: https://www.margaritabravo.com/shop/mb-home-collection/
Follow Margarita Bravo on Instagram: https://www.instagram.com/margaritabravo__/