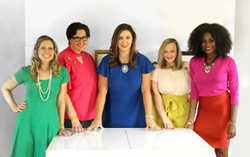 ATLANTA (PRWEB) September 25, 2018
Atlanta-based Launchpad2x (LP2X) continues to propel women-owned enterprises past national statistics. A recent report by American Express shows that while the number of women starting businesses is growing and adding jobs to the economy, only 1.7% of female entrepreneurs break the $1 million mark.
LP2X founder and CEO Bernie Dixon says a quarter of companies that have gone through the LP2X program have over a million dollars in revenue.
"We arm these talented and dynamic women with the info and tools they need to transition from founder to CEO and showcase them to investors. We also address a confidence gap between men and women entrepreneurs that inhibits risk taking." Dixon says LP2X is launching a High Flier subgroup to provide the fastest growing companies with what they need to scale and manage growth. "Kara is a great example of an LP2X High Flier and has done a tremendous job building her business."
Brown arrived in Atlanta in 2016 and started SmithBrown with no network out of her west midtown home. Less than two years later, she has a team of four full-time employees and a client list that includes Atlanta business to business (B2B) heavyweights. She is an active force in cultivating Atlanta's female economy, which led her to the women entrepreneur-focused LP2X program. As a graduate of LP2X, Brown has had access to sponsor resources, the ability to connect with like-minded entrepreneurs, and opportunities to engage with Atlanta influencers and supporters. She counts this as one of the reasons for her speedy success.
"Atlanta is an incredible place to be a female entrepreneur," says Brown, CEO and founder of SmithBrown Marketing. "We call breaking the $1M mark the '2% club' and I'm thrilled to have achieved this first goal. Opportunities to connect with like-minded professionals building businesses through networks like LaunchPad2X have been an integral part of our success."
SmithBrown is a full-service marketing firm specializing in B2B lead conversion, empowering business leaders to scale with proven marketing strategies and measured results through demand generation, strategy, social conversion, and execution.
"Kara and her team dove straight in, got to work, immediately delivered results and, more importantly, implemented a reporting and ROI analysis process that surpasses any available in the marketplace today," said Tania Garcia, chief marketing officer of American Global Logistics, a SmithBrown client. "Not only have we seen tremendous increases in inbound lead generation, but we are able to measure the impact of everything we do from social conversion to PR which allows us to carefully focus our efforts and pivot as needed. They're an invaluable extension of our marketing team."
The 2018 LP2X program is scheduled for the first week in October. This year, LP2X also announced partnerships with Atlanta Tech Village and Venture Atlanta. For more information on Launchpad2X, visit http://www.launchpad2X.com.
About Launchpad2X
Launchpad2X is an entrepreneurial ecosystem in Atlanta supporting women who are founders/leaders/majority-owners of their startup and emerging businesses. Launchpad2X works with the Atlanta business community to provide members with mentorship, ongoing education, and a supportive network that builds the confidence and skills needed to grow their companies. More than 120 women-led companies have graduated from launchpad2x since 2012. Over 94% are still in business and there have been several exits by LP2X graduates. For more information visit: http://www.launchpad2x.com/.
About SmithBrown Marketing
SmithBrown is a marketing and sales enablement firm specializing in business to business conversion, outsourced sales/marketing operations and enablement through marketing automation, lead and demand generation, inbound/outbound marketing, SEO/SEM, project management, and strategy. With clients around the country, SmithBrown is a full-service marketing consultancy that empowers business leaders to scale with proven sales and marketing strategies with measured results. http://www.smithbrownmarketing.com/