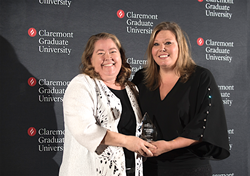 The only thing that excites me more than having Frances lead our Urban Leadership Program is the thought of our students having a chance to work with her.--DeLacy Ganley, Dean,School of Educational Studies
CLAREMONT, Calif. (PRWEB) July 11, 2019
After serving as the Chief Academic Officer of the Los Angeles Unified School District (LAUSD) for several years, Frances Gipson will join Claremont Graduate University (CGU) as Director of the university's Urban Leadership Program, according to an announcement this week from DeLacy Ganley, Dean of the university's School of Educational Studies (SES).
"I cannot think of a person better-suited to this role. I am so thrilled that she–both as an alumna and specifically as a product of our Urban Leadership Program–has agreed to join the School of Educational Studies," Ganley's announcement said.
Gipson, who received a doctorate in Education at CGU in 2012, has served in a variety of roles in the LAUSD, starting as a teacher and moving on to become school principal, administrator of instruction and local district east superintendent.
In 2015, she was chosen by the LAUSD Board to be Chief Academic Officer and oversee the instructional strategies for a student population of 730,000-plus students (LAUSD's student population is second in size only to the New York City Department of Education's).
CGU's Urban Leadership Program recognizes the challenges specific to school districts in diverse, urban communities.
"Experience in the second largest school district in the nation, and the largest with an elected school Board, has provided me with an opportunity to develop an infinite skill set for understanding both the complicated and complex needs of urban schools," Gipson said of her new role.
Urban Leadership alums like Gipson, Ganley noted, have used their experiences on the CGU campus "to propel themselves into becoming superintendents, chief academic officers, community college presidents, and elected officials."
Gipson has received numerous awards, including ACSA's regional Administrator of the Year and the Associated Administrators of Los Angeles' President's Award. She was honored by the Center for Digital Education as one of the nation's top 30 "technologists, transformers and trailblazers … who revolutionize the educational landscape" for her leadership in leveraging classroom technology to engage students and spur academic success.
This spring, Gipson was chosen as a recipient of a 2019 Distinguished Alumni Award from CGU. She said she is looking forward to this next step in her professional career.
"Returning to my alma mater reflects the intersection of my beliefs and values to prepare the next generation of scholar-leaders to accelerate the promise of flourishing education systems," she said. "The personalization, academic knowledge-building, and lifetime relationship-building that CGU develops is a testimony to a university that believes in the limitless possibilities of learners to change the future, while fully engaged in the present."
For Ganley, Gipson's arrival on July 15 marks an exciting new phase for the Urban Leadership Program.
"The only thing that excites me more than having Frances lead our Urban Leadership Program is the thought of our students having a chance to work with her," Ganley said.