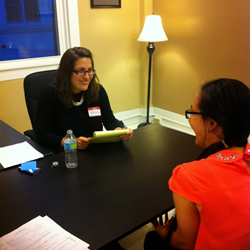 It was a great learning opportunity – to practice real world interview scenarios with experts and hear feedback from them.
Berea, KY (PRWEB) November 06, 2014
Consultwebs.com, Inc. recently held a career development event for Berea College students, offering 23 participants an opportunity to do speed interviews and participate in a resume and networking workshop.
"It was a great learning opportunity – to practice real world interview scenarios with experts and hear feedback from them," said Nicoleta Dvornicov, one of the participants in the law firm Web marketing company's October 24 event. "It is critical for personal improvement."
The students engaged in a number of face-to-face and virtual mock interviews with eight representatives from Consultwebs.com, the Berea College Center for Transformative Learning and Eastern Kentucky University.
"I am happy that students have access to a number of resources to help them prepare for their next step," said Consultwebs.com consultant Meg McLean, one of the interviewers. "There was little to nothing of this when I was a student."
To complement the mock interviews, participants learned about the basics of networking and common resume mistakes in condensed, 20-minute workshops.
During the resume workshop, participants were encouraged to look at a sample resume as if they were a hiring professional and spot mistakes.
"It was a pleasure to teach others about resume building in a fun and interactive way," said Anna Whitaker, an intern at Consultwebs.com, who lead the resume workshop.
Samantha Hicks, another student intern at Consultwebs.com, expressed her appreciation for her Consultwebs colleagues who came out to coach students in mock interviews.
"I am fortunate to work with such amazing people who are willing to spread their knowledge and expertise to benefit others," Hicks said.
Consultwebs.com has had close ties with Berea College since 2011, when Consultwebs.com became the first for-profit organization to partner with the school's work study program.
Since then, students have been able to work part-time, gain real-world work experience and develop their skills in business, marketing and communication.
"Having a chance to organize this event for my fellow students and to help them grow professionally is one of my personal highlights," said Polina Larina, student intern manager at Consultwebs and one of the event organizers.
"I am glad other Berea students get to enjoy the results of the partnership we have with Consultwebs and get closer to finding their dream career."
About Consultwebs.com, Inc.
Consultwebs.com, Inc., provides Web marketing products and services to law firms across country. The company's offices are based in North Carolina (The Forum I, 8601 Six Forks Rd., Suite 400, Raleigh, NC, 27615) and Kentucky (114 Main Street, Berea, KY, 40403). For more information, call Marketing Director Tanner Jones at (800) 872-6590 or (859) 353-7720 or simply submit the company's online contact form.