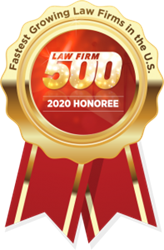 ...velocity of their growth, strategic vision, and unwavering commitment to succeed.
NEW YORK (PRWEB) December 29, 2020
Recently, Law Firm 500 recognized The Law Office of Richard M. Kenny as one of the Fastest Growing Law Firms in the United States. This award is only issued to law firms that have demonstrated exponential growth due to their dedication and commitment to their clients.
Each year, Law Firm 500 announces the top 500 fastest-growing law firms in the United States based on gross revenues of the last three years. According to their website, these awards are only issued to law firms that have proved the "...velocity of their growth, strategic vision, and unwavering commitment to succeed."
Achieving 50% growth, as The Law Offices of Richard M. Kenny has, even amid these uncertain times is an extraordinary accomplishment, which could only be made possible by achieving positive results on behalf of their clients, time and time again.
Attorney Kenny began practicing personal injury law for almost 30 years, and during that time, he has made it his goal to fight for his clients' rights after they've been wrongly injured in accidents due to negligence and malpractice of others. In this time, Attorney Kenny won several awards, including being voted by his peers as one of the Nation's Top One Percent Attorney's from 2015 until the present. One of the more elite organizations that honor an attorney's achievements in and out of the Courtroom.
Among Attorney Kenny's greatest verdicts include recovering $13 million in damages on behalf of a client who had sustained significant injuries, including a neck fracture, in a motor vehicle accident. In 1995, a claim had been filed against a driver and Nassau County after the plaintiff was injured as a passenger due to a dangerous road design. The jury used the comparative fault system and placed 13 percent responsibility on the driver and 87 percent responsibility on Nassau County, as the road had a reputation for being unreasonably unsafe. This verdict made history at the time as one of the 2nd Department's highest sustained verdicts for a nonmedical malpractice case.
In another case, The Law Office of Richard M. Kenny recovered a $6.2 million settlement on behalf of a construction worker client. In this case, the construction worker lost a portion of his leg in a highway construction accident that was no fault of his own. The client was doing his job as instructed when his leg was pinned between two concrete pylons. While in most cases, when construction workers are injured on the job, they will simply file a workers' compensation claim, in this case, The Law Office of Richard M. Kenny pursued further civil action due to the severity of the damage. On the eve of the court trial, The Law Office of Richard M. Kenny was able to achieve a $6.2 million settlement on behalf of their client, as they proved the client sustained a catastrophic injury that would impact his daily life, as well as his ability to continue his line of work. They also recovered damages for the loss of enjoyment of life, pain and suffering, and various medical bills the client incurred as a result of his accident.
Aside from practicing law, Attorney Kenny is also very active in his community, as he has devoted countless hours of time to participate in various pro bono activities, including as a 911 Victims Compensation Fund Volunteer from 2001 until the present.
The Law Office of Richard M. Kenny has helped countless individuals who've sustained serious injuries in New York City since 2002, and they are ready to put this experience to work for you. If you have sustained an injury due to the negligence of others and require the services of an experienced New York City personal injury lawyer, feel free to contact them online or call them at (866) 664-7162.