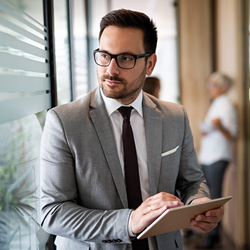 For attorneys, the compliance landscape proves especially difficult. Each client potentially brings both sensitive data and additional regulations, adding to law firm compliance challenges.
HOBOKEN, N.J. (PRWEB) February 09, 2023
Messaging Architects, an eMazzanti Technologies Company and legal technology expert, examines law firm compliance challenges in a new article. The informative article first asserts that attorneys must understand how and when numerous regulations apply to law firms.
The author then discusses the essential compliance responsibilities for law firms and the critical consequences of non-compliance. He concludes by listing four best practices to address law firm compliance challenges, including compliance and security awareness training, information governance, basic cyber security, and regular audits with continuous monitoring.
"For attorneys, the compliance landscape proves especially difficult," stated Greg Smith, Vice President of Services Delivery at Messaging Architects. "Each client potentially brings both sensitive data and additional regulations, adding to law firm compliance challenges."
Below are a few excerpts from the article, "Law Firm Compliance Challenges Underscore Need for Renewed Cyber Security Focus."
Understand How and When Regulations Apply to Law Firms
"Law firms occupy a unique position that makes them potentially subject to a wide range of regulations. Like any organization, they must comply with the evolving privacy laws of the state(s) in which they do businesses. However, in addition, they must take into account industry-specific data security and privacy laws that apply to any and all of their clients."
"For instance, healthcare providers must adhere to the strict mandates of HIPAA, which requires them to safeguard protected health information (PHI). But HIPAA regulations also extend to 'business associates' of those healthcare providers, who must also comply with HIPAA."
Essential Compliance Responsibilities for Law Firms
"The American Bar Association (ABA) gives general guidance to law firms in ABA Rule 1.6. This rule indicates that attorneys should 'make reasonable efforts to prevent the inadvertent or unauthorized disclosure of, or unauthorized access to, information relating to the representation of a client.' Additional ethics opinions provide more guidance on cyber security concerns."
Critical Consequences of Non-Compliance
While achieving and maintaining compliance can seem daunting, the risks of non-compliance are significant. For instance, HIPAA fines can skyrocket up to $50 thousand per violation for willful neglect of rules, with a maximum fine of $1.5 million per year. But even if states attorney generals do not impose fines, non-compliance can have devastating effects.
Law Firm Compliance Experts
Law firm compliance challenges and the consequences of failure to comply can seem daunting. But the Legal IT consultants at Messaging Architects have the experience and tools necessary to assist law firms as they identify and implement compliance strategies.
Have you read?
Gain Control of Business Data to Reduce Costs, Increase Productivity, Inform Decisions, and Improve Security
Why Lawyers Need to Understand Shadow Data
About Messaging Architects
Messaging Architects specializes in effectively managing and securing an organization's most precious asset, its information. With over 20 years of information management and technology consulting experience, the Messaging Architects team has provided corporations, educational intuitions, health care facilities and nonprofits with methodologies, procedures, and technology to keep their data organized, compliant and secure.
About eMazzanti Technologies
eMazzanti's team of trained, certified IT experts rapidly deliver increased revenue growth, data security and productivity for clients ranging from law firms to high-end global retailers, expertly providing advanced business cyber security, retail and payment technology, digital marketing services, cloud and mobile solutions, multi-site implementations, 24×7 outsourced network management, remote monitoring, and support.
eMazzanti's consistent growth landed them on the Inc. 5000 list 9X. Recognized as a 4X Microsoft Partner of the Year, the #1 ranked NYC area MSP, NJ Business of the Year, and 5X WatchGuard Partner of the Year, the company excels as a trusted outsourced IT partner! Contact: 1-866-362-9926, info@emazzanti.net or http://www.emazzanti.net Twitter: @emazzanti Facebook: Facebook.com/emazzantitechnologies.