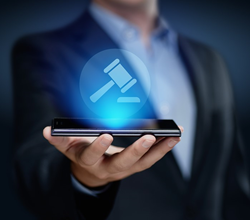 Law firms that migrate to the cloud cite numerous benefits, including better access, stronger data security and enhanced staff efficiency.
HOBOKEN, N.J. (PRWEB) January 25, 2019
An NYC area legal IT consultant and MSP shares experience and lessons from law firms that successfully migrated to the cloud in a new article on the eMazzanti Technologies website. Superior data security, minimized costs, streamlined firm efficiency and other far reaching benefits of migrating to the cloud are cited by the firms quoted.
The informative article discusses the need to first improve network equipment and bandwidth. In addition, the prerequisite of specific policies to ensure that migration is done securely and in compliance is stated. The featured firms urge others to choose a reliable cloud services provider with state-of-the-art security and experience handling firm data.
"Law firms that migrate to the cloud cite numerous benefits, including better access, stronger data security and enhanced staff efficiency," stated Jennifer Mazzanti, CEO, eMazzanti Technologies. "Firms that are reluctant or sitting on the fence should address their concerns and move forward."
LegalTech Exhibitor
In related news, eMazzanti Technologies will be attending and exhibiting at Legaltech 2019, part of Legalweek New York. The legal industry technology conference will be held at the New York Hilton Midtown, January 29 - 31, 2019.
Law firms seeking enhanced data security, migration of core legal line-of-business applications to the cloud and application support can arrange to meet the company's legal IT security consultants at the event. Interested parties should call 866-362-9926.
eMazzanti's Legal IT experts can be found in booth #507 of the Legaltech exhibit hall located on the second floor of the hotel convention center. The New York Hilton Midtown is located at 1335 Avenue of the Americas, New York, New York.
Below are a few excerpts from the eMazzanti article, "Law Firms Migrating to the Cloud Successfully."
Improve Network Equipment and Bandwidth
"For our firm, the first step to moving to the cloud was to improve our network equipment and increase our bandwidth."
Minimize Costs and Streamline Firm Efficiency
"Outsourcing data security can help to minimize costs and streamline firm efficiency. If a firm chooses a reputable vendor with highly-proficient employees, the risk of being hacked or suffering a security breach may be minimal. Outsourcing security to a legitimate provider can help to reduce risks of breaches."
Getting a Step Up in Security
"I believe that cloud data security far exceeds in-house security if properly setup and structured. Few law firms have "bank grade" security. Whereas, if things are hosted in the cloud, with a top-notch company in compliance with everything required by your state bar, you'll be getting a step up in security by hosting documents with them."
"What should law firms look for in a cloud services provider? One that uses "bank grade" security, has multi-authentication login, and understands what it means to work with attorneys who not only have to worry about their clients but also about state bar requirements and compliance therewith."
Successfully Migrate to the Cloud
Whether a firm maintains its data in-house or seeks to migrate to the cloud, eMazzanti Technology's Legal Managed IT experts ensure secure, remote access to data, network security 24/7, eDiscovery data encryption and automated business continuity processes.
As legal Office 365 experts, eMazzanti provides proven Office 365 solutions to ensure confidentiality, security and compliance while sharing sensitive information with clients, teams and colleagues anytime and anywhere. The company also offers secure system integration for time management, billing, litigation and document management software.
Related resource information:
3 Technology Trends That Can Transform the Legal World
The Importance of Cybersecurity for Law Firms
About eMazzanti Technologies
eMazzanti's team of trained, certified IT experts rapidly deliver increased revenue growth, data security and productivity for clients ranging from law firms to high-end global retailers, expertly providing advanced retail and payment technology, digital marketing services, cloud and mobile solutions, multi-site implementations, 24×7 outsourced network management, remote monitoring and support.
eMazzanti has made the Inc. 5000 list eight consecutive years, is a 2015, 2013 and 2012 Microsoft Partner of the Year, 2016 NJ Business of the Year, 5X WatchGuard Partner of the Year and one of the TOP 200 U.S. Microsoft Partners! Contact: 1-866-362-9926, info@emazzanti.net or http://www.emazzanti.net Twitter: @emazzanti Facebook: Facebook.com/emazzantitechnologies.