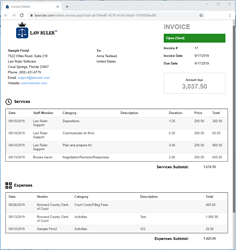 As Law Ruler says, "We are not just intake anymore. The company is now rebranding itself as the platform for growing firms."
FORT LAUDERDALE, Fla. (PRWEB) October 01, 2019
Using the most advanced secure Microsoft Azure cloud-based technology with the latest software designs the company is now rebranding itself as "the platform for growing firms." Originally launched in 2015, Law Ruler has been constantly evolving and innovating their feature set to accommodate the ever-changing legal landscape. Their newest version design makes their features simple and easy to use for all legal professionals.
Daniel Jacobs, CTO of Law Ruler states "that on average, law firms are not only increasing their new client signups but are now able to take those clients from intake to settlement all within a single platform.'"
He furthered that "the astonishing part for me is that we have turned a startup company into a well-recognized brand within the legal community in just a few years. When we started in 2015, we created an intake and marketing tracking legal CRM solution. Then, we were asked to build more than just intake since everyone loved the system and wanted it to do more. Our clientele wanted everything in one place without the need for repetitively entering data into two places each and every day."
And now with 2019, Law Ruler is not the typical intake solution anymore. The features are ongoing and innovations are always being made with new versions being made available monthly.
New Features

Trust Accounting
Contingency Billing
Time and Hourly Invoicing / Time Tracking
Flat Fee Billing
Versatile Expenses and Cost Tracking
Settlement Calculator to Evaluate Offers and Settlements
Invoicing via Email, Text Message, or Printable PDF
Integration with LawPay, for client payment and client payment requests
Customizable Workflow Builder Including Milestone Capabilities
Softphone Built-In Dialer with Client Acquisition and Retention Features
Integrations with over 1,500 Legal Industry Vendors
All-in-One Platform (Intake, Marketing, and Case Management)
About Law Ruler Software, LLC
Law Ruler Software, LLC, https://www.lawruler.com is a market-leading legal case management software and marketing automation solution provider. Whether a firm is managing incoming referrals, leads from TV, billboards, or digital media, our solutions will drive better results and make your team even better. Our approach is unique since we ensure that each and every client has a solution that meshes with their workflow and how they do business. Law Ruler's features include case management, billing, timekeeping, text e-sign, medical record ordering, phone call tracking, marketing automation via text and email, task management, workflow automation, case expense and settlement management, and powerful reporting to maximize your firm's revenues and profitability.
For further information:
Contact Phone: 800.431.6779
The Web: http://www.lawruler.com
Facebook: https://www.facebook.com/Lawruler/
LinkedIn: https://www.linkedin.com/company/law-ruler
YouTube: https://www.youtube.com/channel/UCsB9UZ1hXJ5zgN1pIISwC3A
Email: info@lawruler.com