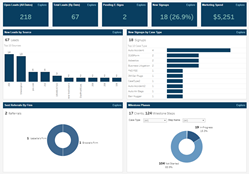 CORAL SPRINGS, Fla. (PRWEB) January 26, 2021
Law Ruler is pleased to announce the release of an exciting new dimension to its legal case management software. For valued existing customers, Law Ruler is offering the main SONAR dashboard as a bonus add-on at no additional cost. The SONAR dashboard allows law firms to easily delve deep within its business' analytics to synthesize optimal data-backed marketing trends, staff productivity, budget decisions and other key performance metrics that growing businesses rely upon. Many other companies charge thousands of dollars a year for a dashboard with this functionality - Law Ruler delivers this bonus feature at no charge for its customers.
Law Ruler's SONAR is an immersive dashboard analytics for law firms that will ultimately help evaluate the progress of your firm's business goals based on clear data. The most successful law firm has found that if they analyze their historical data, then they are able to leverage it to make data backed decisions to effectively grow their firm.
SONAR employs KPIs (Key Performance Indicators) to evaluate and position a law firm. A KPI is a quantifiable value that reveals how effectively a company is attaining crucial business objectives. Organizations use KPIs to evaluate their success at reaching targets.
KPIs are more than numbers you report each week. SONAR 'S KPIs allow you to assess the performance and health of your firm utilizing the following...

Key Performance Metrics – KPIs establish an analytical foundation for decision making and help spotlight your law firm's game winning strategy.
Critical to Measure the Right Things – Gauging what analytics to measure is the first step in a successful formula. Developing KPIs for marketing, intake, case management and referrals ultimately provides sound data to foster a successful game plan.
Staff Productivity – Quantifying and evaluating your staff's productivity over time allows management to identify trends, patterns and employment needs.
Law Ruler SONAR provides custom dashboard analytics for your legal firm. When developing KPIs for litigation and legal case management as an example, law firms have the data at hand to gauge where its workload currently stands, i.e., whether dockets are falling behind or in need of attention, if your marketing is delivering results, if your staff is effective at signing up new clients, and a whole lot more.
Law Ruler's legal case management software combines powerful intake and legal practice management coupled with KPIs to evaluate the success of both large and small law firms and to help them build and sustain their business. Implementing Law Ruler SONAR and KPIs into your legal firm's strategy to deliver data backed decisions will drive the firm's growth and profits. For more information, call 1 (866) 609-5105 or visit Law Ruler's Facebook page or website for more information.