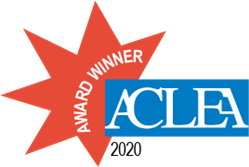 "Our commitment to educating the legal community is second only to our drive to help it thrive in order to benefit society as a whole."
NEW YORK (PRWEB) August 06, 2020
Lawline, the nation's leading online Continuing Legal Education (CLE) provider, is thrilled to announce that it has again been recognized for extraordinary content and contribution to the legal community by the Association for Continuing Legal Education (ACLEA). ACLEA members are professionals in the fields of continuing legal education and legal publishing. It's annual Best Awards are highly competitive and the winning projects represent the highest level of achievement for those involved.
Lawline is the 2020 recipient of ACLEA's Steven Leleiko Memorial Award for Professional Excellence in the area of Public Interest. This award is given to acknowledge outstanding commitment to the public interest as evidenced through one or more of the following activities: programs, publications, scholarships, or other related activities that support the public interest and/or provision of legal services to historically marginalized and underrepresented populations.
"This award is a true honor," said Shaun Salmon, Lawline's Director of Content. "Our commitment to educating the legal community is second only to our drive to help it thrive in order to benefit society as a whole. We are thrilled to be recognized for our comprehensive CLE offerings and free coronavirus resources, philanthropic support for frontline workers, and extension of benefits to our own employees during the crisis, and hope to serve as an example to others in our field."
In addition to dozens of coronavirus programs, Lawline offers a unique, easy to use interactive platform, cutting-edge technology, an award-winning app and blog, and a comprehensive course catalog that has received nationwide accreditation. Lawline produces all CLE content in-house and at its own live events throughout the year. Attorneys wishing to test out the content may now do so via the free trial and can access free resources here.
ACLEA formally presented this award to Lawline at the Annual Meeting, virtually held on July 28, 2020.
About Lawline
Lawline is the leading provider of online continuing legal education (CLE) with over 120,000 attorneys trusting Lawline with their CLE compliance. Offering legal education nationwide, Lawline creates timely and engaging content that supports attorneys throughout their career. The company is headquartered in downtown Manhattan and has received multiple awards recognizing its superior product, service, and company culture. Lawline's success has also been featured in The Wall Street Journal, Inc., Entrepreneur, and Forbes.com.