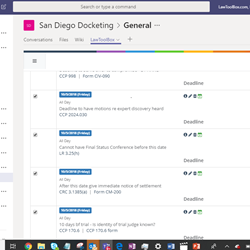 LawToolBox is a great solution for Microsoft Office 365 users in the legal industry, empowering legal professionals to manage deadlines wherever and whenever they are working - Mike Ammerlaan, Director, Product Marketing Ecosystem, Microsoft
ORLANDO, Fla. (PRWEB) October 01, 2018
LawToolBox, a market leader in delivering modern solutions for legal professionals in Microsoft Office 365, announces that at the Microsoft Ignite 2018 conference it has won the award for second place in the Best Office Integration category for its Deadline App for Microsoft Teams. This recognition is especially notable because thousands of apps were eligible for this category across the Microsoft Office App Store. See video.
This recently announced app extends its suite of award-winning deadline management tools beyond its Add-in for Outlook and SharePoint to Microsoft Teams, which is the fastest growing business app in Microsoft history and is now used by more than 329,000 organizations (Microsoft 365 Blog, March 14, 2017). Many law firms and corporate legal departments are rapidly embracing the Teams collaboration environment for their attorneys and staff. See, "Why Microsoft Teams Will Soon Be Just as Common as Outlook", Gartner (June 18, 2018).
The app seamlessly provisions a Microsoft Group that includes a SharePoint Site, document folders, OneNote, group calendar, and shared inbox. Legal professionals can share a matter with any user in their firm, calculate deadlines based on the rules (e.g., the rules of civil procedure in state or federal court across the US and even outside the US), and users' Outlook calendars are automatically updated for all members. Users can:

Create matters or cases using a rule-set or choose "general matters" for basic calendaring
Calculate litigation, administrative, regulatory or custom deadlines based on applicable rules.
Add, update, or remove case-specific deadlines
Update team member Outlook calendars as deadlines and users change.
View, email and share deadlines for a matter, user, team or firm-wide.
Filter by recent matters, user matters, practice group matters, firm matters, or matter name.
Research analytics on average length of matters and motions
View insights on co-worker's case activity
Search for key words and phrases across Office 365
"Congratulations to the entire LawToolBox team. Their application is a great solution for Microsoft Office 365 users in the legal industry, empowering legal professionals to manage deadlines wherever and whenever they are working", says Mike Ammerlaan, Director, Product Marketing Ecosystem, Microsoft.
This award is affirmation of the important strides LawToolBox is making in pursuit of its mission to help good attorneys become great attorneys, and to deliver next-generation deadline management tools for law firms and corporate legal departments.