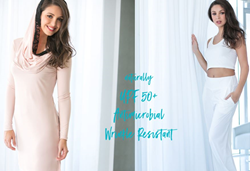 It's everything you'd want in your clothing:stylish, contemporary, comfortable, functional and yes, protective.
CHEVY CHASE, Md. (PRWEB) July 25, 2018
What makes Luminora™ so special when there are so many women's clothing lines available?
Great looking, comfortable women's fashion isn't necessarily unique, however, a clothing line that is skin healthy and sunsmart most certainly is. Luminora™, meaning "gift of light", merges science, function and style by infusing natural plant oil into the fabric, giving it it's all natural Ultraviolet Protection Factor (UPF) 50+ rating, blocking 98% of the sun's harmful UVA/UVB rays. And unlike other sun protective clothing, the eco-friendly Luminology Technology® fabric protects without chemicals that often are harmful to the skin, and wash out of the fabric after just a few washes, leaving you unprotected. Luminora™ retains all of its UPF properties wash after wash. The fabric is also wrinkle-resistant, quick drying, lightweight, breathable and antimicrobial--making it the ideal travel companion.
DC-based lawyer turned fashion designer Azi Hendi, the CEO of Luminora™, was inspired to create Luminora's™ luxury fashion line while vacationing with her family on the Amalfi Coast. That is when she realized there were no options for stylish, functional, all natural, sun protective clothing - so she created it herself! Being married to a skin cancer surgeon, she knows first hand the irreparable damage the sun's UVA/UVB rays can cause, from premature aging to skin cancer, and sadly for some, death. One in five Americans is diagnosed with a form of skin cancer each year, and it's even a higher percentage in the sunbelt states.
It's obvious Azi is passionate about protecting people with her proprietary clothing line and often does interviews on the subject of sun protective clothing. In a recent interview, she stated, "when it comes to UPF fabric and sun protective clothing, there's one question I get all the time: don't my clothes already protect me from the sun? The disappointing truth: not really! While most fabrics do provide some level of protection, their UPFs are not all equal or as high as you may think. I didn't know this either, until I witnessed a friend get a sunburn on her back after playing tennis in the sun despite wearing her cotton t-shirt for protection. It turns out a variety of factors can impact the UPF of your clothing. The average UPF of a cotton or linen t-shirt is about 5, which means it allows 1/5th of the sun's rays to penetrate your skin, enough to cause a sunburn or lead to skin cancer."
Health-conscious consumers will greatly appreciate what Azi and her husband, Dr. Ali Hendi, a prominent skin cancer surgeon, have created. It's everything you'd want in your clothing:stylish, contemporary, comfortable, functional and yes, protective.
Summer holidays are here and the sunny, warm weather is in full swing. Now is not the time to get lazy about sun protection.
Here at Luminora™, we believe the sun is not to be feared, but a gift of light to be enjoyed and embraced thoughtfully. Luminora™ creates high quality sun-protective clothing for women who value freedom. Freedom to travel, and explore the world guilt and worry free. Luminora™ is sun-protective apparel elevated.