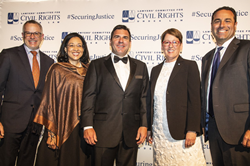 "We are proud to recognize Morgan Stanley for their work to promote diversity and inclusion at this year's 19th annual A. Leon HIgginbotham Gala," said Kristen Clarke, president and executive director of the Lawyers' Committee for Civil Rights Under Law
NEW YORK and WASHINGTON (PRWEB) July 08, 2019
Lawyers' Committee for Civil Rights Under Law Hosts 19th Annual Gala in New York City to Celebrate Diversity and Inclusion
Morgan Stanley Receives 2019 A. Leon Higginbotham Corporate Leadership Award
Funds Raised at the Gala Support Critical Work to Advance Justice Across the Nation
The Lawyers' Committee for Civil Rights Under Law, one of the nation's leading civil rights organizations, hosted its annual Gala in New York City on June 25, 2019. The 19th annual A. Leon Higginbotham Corporate Leadership Award Dinner brought together nearly 1,000 people to emphasize the critical importance of diversity and inclusion in America, while highlighting the multifaceted work of the Lawyers' Committee.
The Lawyers' Committee honored Shelley O'Connor, Morgan Stanley's Managing Director and Andy Saperstein, Head of Morgan Stanley Wealth Management, with the 2019 A. Leon Higginbotham Corporate Leadership Award. The Award Dinner, now in its 19th year, recognizes corporate leaders who embody exemplary practices in promoting diversity and inclusion in the workplace. Laura Coates, CNN Legal Analyst, author, and SiriusXM talk show host, served as master of ceremonies.
"For the past 56 years, we have been on the front-lines in the fight to advance justice and equality across the country," said Kristen Clarke, president and executive director of the Lawyers' Committee for Civil Rights Under Law. "Our A. Leon Higginbotham Gala is an exciting opportunity to celebrate our work to protect the nation's most vulnerable communities and a chance to highlight corporations that exemplify best practices with respect to diversity and inclusion. We are proud to recognize Morgan Stanley for their commitment to and efforts to promote diversity in the workplace. Diversity and inclusion are principles that drive innovation, creativity and competitive advantage, and Morgan Stanley Wealth Management exemplifies this this commitment."
"At Morgan Stanley, diversity is an opportunity – for clients, employees and the firm. By valuing diverse perspectives, we can better serve our clients while we help employees achieve their professional objectives," said James P. Gorman, Chairman and CEO, Morgan Stanley. "A corporate culture in which everyone feels they belong is fundamental to our role as a global leader constantly striving for excellence in all that we do."
In addition to honoring Morgan Stanley, the event recognized the significant contributions of several other notable individuals. Soledad O'Brien, award-winning journalist, speaker, author and philanthropist, was recognized with the Distinguished Civil Rights Advocate Award. Van Jones, who hosts the "Van Jones Show" and "The Redemption Project" on CNN, was recognized with the Beacon of Justice Award.
Louvon Byrd Harris, sister of James Byrd, Jr. and President of The Byrd Foundation for Racial Healing, Susan Bro, mother of Heather Heyer and Co-Founder of the Heather Heyer Foundation, and Opal Tometi, Senior Fellow of the Black Alliance for Just Immigration were also honored as well.
On June 26, the Lawyers' Committee, in partnership with the New York Law School, hosted the inaugural Racial Justice Institute, an all-day conference on the current state of civil rights litigation. The event was attended by hundreds of lawyers, advocates and leaders from across the civil rights community.
The prestigious Higginbotham Corporate Award, named in honor Judge A. Leon Higginbotham, Jr., a pioneering civil rights advocate, author and federal appeals court judge, was established in 2000. Past honorees include: PNC Financial Services; The Home Depot; Ernst & Young LLP; Toyota Motor Sales; DuPont; J.P. Morgan Chase Investment Bank; McDonald's; Aetna Inc.; BellSouth Corporation; Citigroup Inc.; Colgate-Palmolive Company; Fannie Mae; General Electric Company; Microsoft Corporation; The New York Times Company; PepsiCo, Inc.; Qualcomm, Inc.; Time Warner, Inc. and United Parcel Service.
About the Lawyers' Committee for Civil Rights Under Law
The Lawyers' Committee for Civil Rights Under Law, a nonpartisan, nonprofit organization, was formed in 1963 at the request of President John F. Kennedy to involve the private bar in providing legal services to address racial discrimination. Now in its 56th year, the Lawyers' Committee for Civil Rights Under Law is continuing its quest to "Move America Toward Justice." The principal mission of the Lawyers' Committee for Civil Rights Under Law is to secure, through the rule of law, equal justice for all, particularly in the areas of voting rights, criminal justice, fair housing and community development, economic justice, educational opportunities, and hate crimes.
MEDIA NOTE: PHOTOGRAPHS ARE AVAILABLE UPON REQUEST.
Contact: Reynolds Graves, Lawyers' Committee, press@LawyersCommittee.org, 202-662-8375