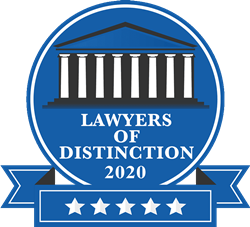 ORLANDO, Fla. (PRWEB) April 07, 2020
Lawyers of Distinction recently announced a partnership with CLE Companion, providing its members with unlimited access to convenient on-demand and live stream Continuing Legal Education courses accepted nationwide! There is no additional cost for Lawyers of Distinction members to utilize this tremendous new benefit. After being accepted into Lawyers of Distinction, members will have access to hundreds of CLE courses in all areas of practice on an easy to navigate platform. Members will also have access to course materials, real time customer support, certificates of completion, and the unique ability to connect with course presenters.
"Lawyers of Distinction is always looking for new ways to help our members distinguish themselves by staying in front of the fast-moving changes in legal technology," said Lawyers of Distinction CEO Robert Baker. "The partnership with CLE Companion is a great way to enhance our value and commitment to our members," added Baker.
"Partnering with a well respected organization like Lawyers of Distinction is a great way for CLE Companion to extend its reach to a new community of talented attorneys. Our current members will benefit from the expanded knowledge this community brings, and we look forward to hosting Lawyers of Distinction members as presenters in the near future," said Kristin Davidson, the founder of CLE Companion.
About Lawyers of Distinction
Lawyers of Distinction is a legal honorary organization featuring lawyers nationwide with exceptional skill sets. Multiple benefits are bundled for attorneys creating a turnkey marketing machine. In addition to unlimited CLE access, membership benefits include our professional logo, plaques and crystals, a discount savings club, a professional press release, social media announcements, and publication of member names in The New York Times, USA Today, The American Lawyer, and The National Law Journal. Other benefits include office brochures, educational workshops, and a comprehensive member profile within our directory, which includes the member's headshot, area of practice, biography, office location, and reviews. Find out more at lawyersofdistinction.com
About CLE Companion
CLE Companion is a fully accredited online CLE provider. Their mission is to take continuing legal education into the next phase of legal technology, which led them to create the most innovative, convenient CLE platform in the industry. Through goals of quality, service and value, CLE Companion has set the bar for Continuing Legal Education in all areas of practice. Find out more at clecompanion.com
Media Contact
Company Name: Lawyers of Distinction
Contact Person: Ryan Lloyd
Email: rlloyd@lawyersofdistinction.com
Phone: (877) 335-3021
Address: 4700 Millenia Blvd #175
City: Orlando
State: FL
Zip: 32839
Country: United States
Website: https://www.lawyersofdistinction.com/