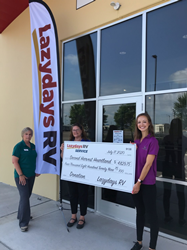 MINNEAPOLIS (PRWEB) July 21, 2020
Lazydays, The RV Authority® is proud to support Second Harvest Heartland with 10% of service proceeds from the Lazydays RV Service Center of Minneapolis. The donation was collected by putting aside 10% of proceeds (up to $50) from each service order throughout the month of June. Lazydays RV Service Center of Minneapolis presented a check to Second Harvest Heartland on July 17, 2020.
"During these trying times, we wanted to partner with a local food bank to help those in need," said Keith Foerster, Vice President of Service Operations. "We're all in this together and it's important to us to be supportive of our fellow community members."
About Lazydays
Lazydays, The RV Authority®, is an iconic brand in the RV industry. Home of the world's largest recreational vehicle dealership, based on 126 acres outside of Tampa, Florida, Lazydays has eight dealership locations in Arizona, Colorado, Florida, Minnesota, and Tennessee. Lazydays also has a dedicated Service Center location in Texas. Offering the nation's largest selection of leading RV brands, Lazydays features nearly 3,000 new and pre-owned RVs, more than 400 service bays and two on-site campgrounds with over 700 RV campsites. In addition, Lazydays RV Accessories & More™ stores offer thousands of accessories and hard-to-find parts at dealership locations.
Since 1976, Lazydays has built a reputation for providing an outstanding customer experience with exceptional service and product expertise, along with being a preferred place to rest and recharge with other RVers. Lazydays consistently provides the best RV purchase, service, rental and ownership experience, which is why more than a half-million RVers and their families visit Lazydays every year, making it their "home away from home."
Lazydays Holdings, Inc. is a publicly listed company on the Nasdaq stock exchange under the ticker "LAZY." Additional information can be found here.
About Second Harvest Heartland
Hunger doesn't wait. While COVID-19 affects our community, helping neighbors experiencing hunger is more necessary than ever. Missing work and an uncertain economy mean families are missing meals. Second Harvest Heartland's COVID-19 plans includes emergency food boxes, prepared meals from Minnesota Central Kitchen, access to SNAP (food stamps), extra measures to keep Second Harvest Heartland employees and food safe, and partnering with elected officials. We are all concerned about staying safe and reducing our exposure to illness. But for some of our neighbors, a lack of resources means they can't afford to stock up on food. Please donate at http://www.2harvest.org/emergencyfood to fund an emergency food box today. You can also learn more about Second Harvest Heartland's COVID-19 response by visiting http://www.2harvest.org/covid19update.