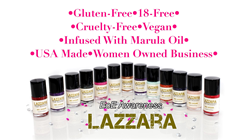 ORANGE COUNTY, Calif. (PRWEB) September 10, 2018
Audrey Lazzara, founder of the Lazzara luxury nail lacquer brand, announced that the company is conducting a storewide back-to-school sale. Individuals will receive 40 percent off any purchase of Lazzara gluten-free and all vegan nail lacquer.
Lazzara is a woman-owned health conscious company providing consumers with a wide range of nail lacquers that are all vegan, cruelty-free, gluten-free, and made in the U.S. The unique nail lacquers created by Lazzara are infused with Marula oil from South Africa that contains powerful antioxidants, vitamins and nutrients.
Whether it's a student, teacher or parent celebrating a return to school, Lazzara has a non-allergenic lacquer color to accommodate a wide variety of preferences. Individuals can choose from 12 unique shades at affordable prices to match any mood and coordinate with fashionable garments.
The online boutique has a unique line of red and orange vegan nail lacquer designed to excite. The orange of Ilene was inspired by autumn leaves in Central Park and represents the spirit and sophistication for which New Yorkers are known. Ana is the ideal accompaniment for parties and power suits and Bernadette is a classy burgundy, while Audrey provides a touch of liquid copper to nails.
The company has dedicated its Mark John color to fashion forward men that wear nail lacquer. It's a strong, masculine color that features a combination of dark green, gray and shimmer. The lacquer is a multi-faceted color that brings to mind the tears of a dragon.
Lazzara was founded to bring awareness to the allergic condition known as eosinophilic esophagitis (EoE). It's a chronic immune system disease in which a specific type of white blood cell builds up in the esophagus. It causes multiple symptoms ranging from difficulty swallowing and chest pain that doesn't respond to antacids, to gastrointestinal illness. It affects populations worldwide and is associated with six common foods that cause allergies.
The back to school celebration at Lazzara provides men, women and students of all ages with a resource for organic nail lacquer that's a vegan, gluten-free and cruelty-free solution. With 40 percent off all of Lazzara lacquers, it's easy to afford several and the Marula oil infused into each color provides a potent botanical that works to enhance nail health.
About Lazzara
Lazzara believes in an organic lifestyle and its unique line of chic nail lacquers reflects that. They're gluten-free, cruelty-free, all vegan, and infused with Marula oil that contains potent antioxidants. The line was created to bring attention to eosinophilic esophagitis. The company's offerings also include a line of unique hoodies, sweatshirts, tanks and active wear, along with an affiliate program. Individuals can connect with Lazzara on Facebook and Instagram.